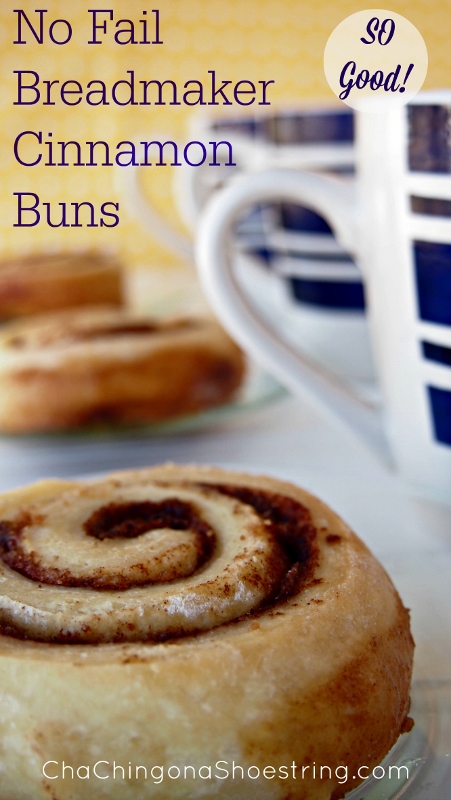 No Fail Breadmaker Cinnamon Buns Recipe
I have always assumed that the making of delicious Cinnamon Buns required a special super power.
So when my neighbor graciously sent over a pan of homemade cinnamon buns a while back, I not only was Over-the-Moon delighted – but I also wondered where she hid her cape.
And then when I tasted their ooey-gooey, melt in your mouth perfection, I knew that she must have a hidden alter ego – Cinnamon-Bun-Super-Woman by night; Neighbor-of-the-Year by day.
When she claimed that her recipe was impossible to fail, I was highly skeptical.  I did not possess the super powers required for these amazing pastries.
But I decided that – on the off-chance the recipe really was as easy as she claimed – I should give it a try.  Maybe – just maybe I too could be a Maker of Cinnamon Buns.
Ladies and Gentlemen: I have arrived.  I baked cinnamon buns and they are GOOD.  (Amazing, actually…in my humble opinion.)
Because I think the world should have this recipe, I asked my neighbor if she would mind if I shared her secrets with you all.  She kindly agreed – even before she discovered a plate of them on her front porch!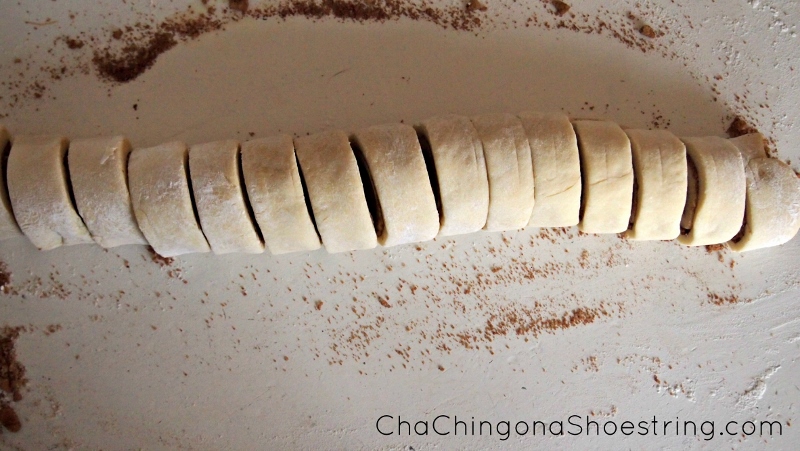 No Fail Breadmaker Cinnamon Buns Recipe
Ingredients
1/2 c. water
1/2 c. milk
2 beaten eggs
4 c. bread flour
1 tsp. salt
1/4 c. plus 1 tsp. white sugar
1 c. plus 2 TBS. butter - divided
1 pkg. active dry yeast (2 1/4 tsp.)
1 1/2 c. brown sugar - divided
1 TBS cinnamon
Instructions
Place water, milk, eggs, flour, salt, white sugar, 1/4 c. butter (melted) and yeast in bread machine in the order mentioned. Set to dough cycle.
While bread is rising, melt 3/4 c. butter and 3/4 c. brown sugar in a sauce pan and then spread evenly in one 9"x13" or two 8" round pans.
When dough is done, roll into an 18"x14" rectangle. Brush with 2 TBS. melted butter.
Mix 3/4 c. brown sugar and 1 TBS. cinnamon and sprinkle on top of melted butter.
Roll up, then with a serrated knife, cut into 15 pieces and place in prepared pan.
Rise for another hour.
Cook at 375 for 25 - 30 minutes.
Notes
*If you prefer, you can store in the refrigerator overnight before baking.
https://chachingonashoestring.com/2014/03/27/fail-breadmaker-cinnamon-buns-recipe/
These cinnamon buns do not require frosting – I promise.  Just be sure to slather them with the melted glaze at the bottom of the pan.
And be sure to send a pan over to your neighbor.  She'll love you forever.
By the way, if you don't own a breadmaker, I use this one and love it.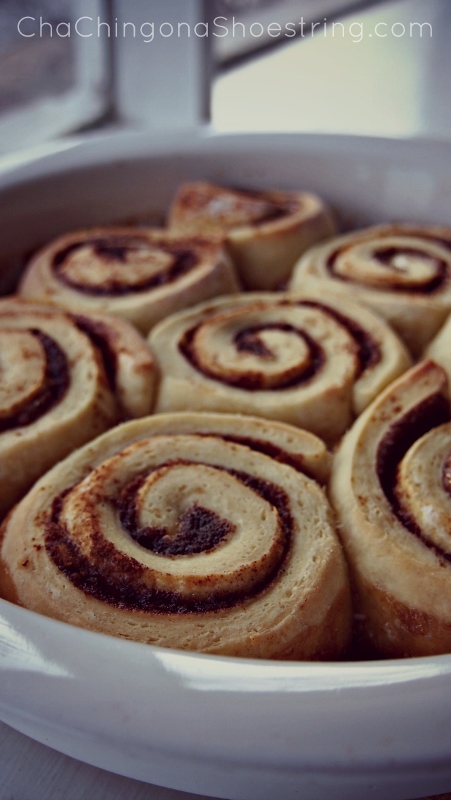 And she'll definitely want the recipe. 
I shared this with Thrifty Thursday.