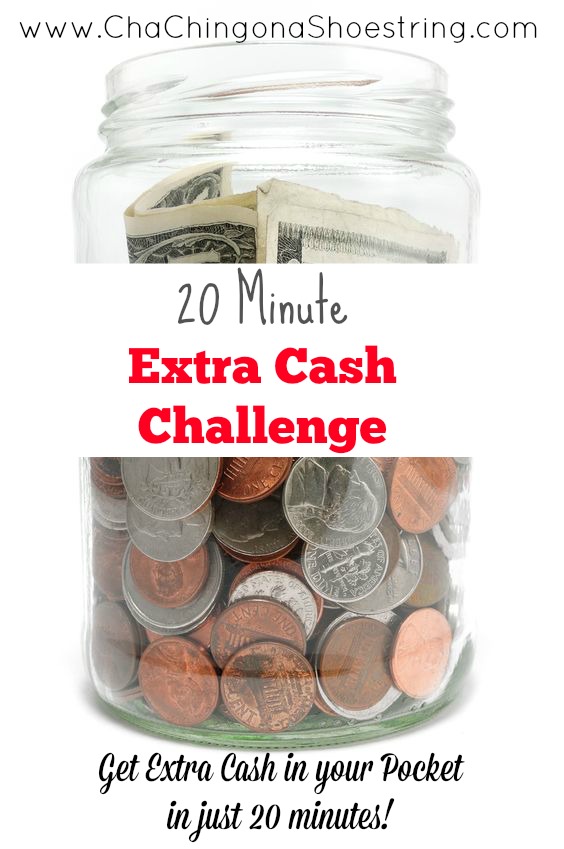 Welcome to Day 3 of the 20 Minute Extra Cash Challenge!
First of all, have you shared what reward you are saving up for yet? If you haven't, head over here to do so – I'll wait.
Done? Awesome – now let's talk about getting more bang for our buck!
You see, I have a philosophy when it comes to earning extra cash online.  It has two parts:
1. Time is Money.
Truth: The time we spend earning extra cash online is only as valuable as we allow it to be. 
The truth is, you need to take into consideration how much your time is worth. If you are spending hours and hours each day online looking for ways to earn extra cash and those hours aren't resulting in much more than a few dollars per day then that's a very poor return on investment. There are much better ways to earn extra cash.
On the other hand, if we can determine which earning opportunities pay us the most per hour and focus on those – even for just 20 minutes per day – then that's what we call getting more bang for our buck!
For example, getting paid $0.02 to read an email doesn't seem like much. But if it only takes 5 seconds to read that email, that translates to $14.40 per hour – which is a fantastic per hour wage! Sounds a whole lot better than getting paid just two cents, doesn't it? 🙂
Your time is valuable. If you can spend less time earning more extra cash online, that frees up time for other methods of saving and earning money!
2. Maximize the opportunities that benefit YOU. Ignore the opportunities that don't. 
Truth: If you are spending money that you don't intend to spend in order to earn extra cash, then it really isn't "extra". 
Plain and simple. Most sites that are offering ways to earn extra cash also want you to spend cash. Unless you already intended to purchase that item, don't spend cash to earn cash.  The last thing I want to do is to encourage my readers to lose money in this challenge!
It's important to recognize that, just like us, the sites we join all want to earn money. They are going to offer all types of rewards and benefits to entice you to spend money so they can benefit. Don't do it. Make choices that benefit yourself.
There really are valid ways to earn cash and rewards for FREE.  Will it take a little longer to earn them? Yes – but in the end, it really will be extra cash.
Before we move on, can we all agree to two things? 
We will just say NO to offers that require us to spend more time than they are worth.
We will just say NO to offers that require us to spend money.
Promise?
Coming up next? Offers we can say YES to!
More in this series: 
Day 1 – The 20 Minute Extra Cash Challenge – Will You Join Me?
Day 2  – The 20 Minute Extra Cash Challenge – Eye on the Prize