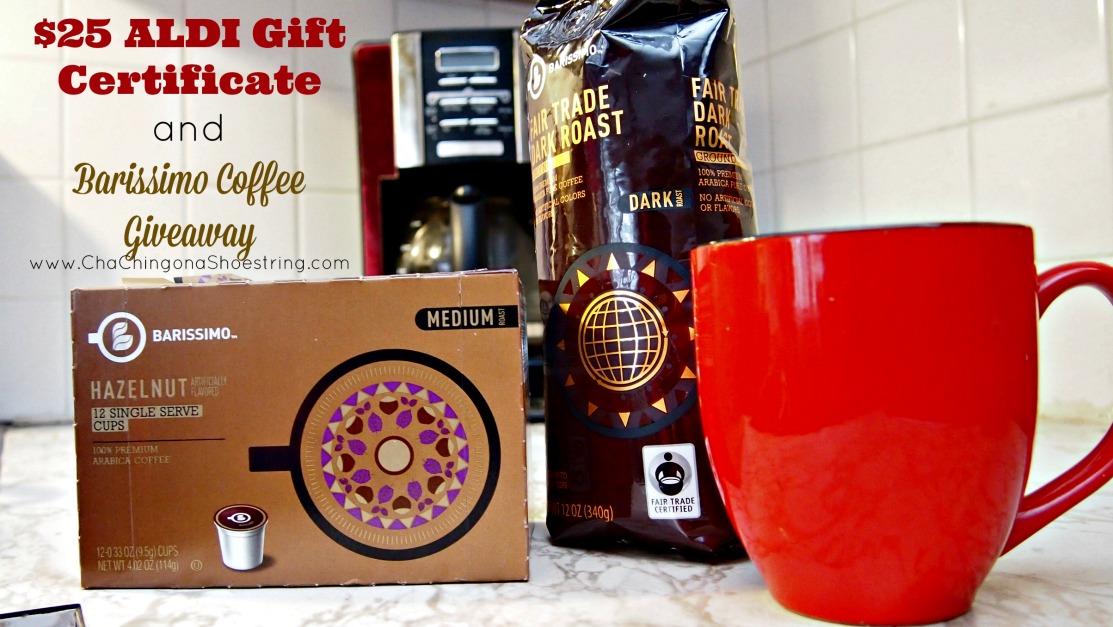 Update: This giveaway has ended.
ALDI and coffee. 
Two of my very favorite things in the world – in one sentence – AND in one giveaway!
ALDI recently reached out to me to ask if I was interested in trying their newly rebranded Barissimo Coffee. My husband and I are currently on the hunt for a new coffee experience, so I did not hesitate to say yes.
We opted for the Barissimo Fair Trade Dark Roast Coffee and Hazelnut K-Cups. At $3.99 for a 12 oz. bag of coffee (about $0.10 per cup!) and just $4.79 for the K-Cups ($0.40 per cup), it's obvious that choosing Barissimo coffee is a great decision for frugal people.
Not only that, but it also passed our taste test! So glad we have another (inexpensive) brand of coffee to add to our repertoire.
Here's what you need to know when you give Barissimo Coffee a try:  
A number of former Beaumont Coffee products transitioned to the new Barissimo brand in early 2015. Product taste and pricing remain the same.
The line features nine bagged and single serve coffee items, along with additional seasonal and Special Buy items that will be available for a limited time.
The following items are now sold under the Barissimo brand:
Ready-to-drink Iced Coffees (French Vanilla, Mocha and Coffee) – $1.19
Whole Bean Coffee (Morning Roast and Donut Store) – $3.99
Fair Trade Coffee (Medium and Dark Roast) – $3.99
Donut Store Ground Coffee – $3.99
12 oz. Bag Coffee (Breakfast Blend, House Blend, and French Roast) – $3.99
Assorted Flavored Coffee (French Vanilla and Hazelnut) – $4.99
Flavored Coffee Cups (French Vanilla and Hazelnut) – $4.79
Regular Roast Coffee Cups (Breakfast and Donut) – $4.79
Specialty Roast Coffee Cups (Fair Trade Colombian and Dark Roast) – $4.79
Prices based on retails on 1/7/2015. Prices subject to change and may vary by store location.
Click here to find an ALDI location near you. If you've never been to ALDI, you'll definitely want to read my post about why you'll need a quarter here.
And now for the awesome giveaway! 
I'm excited to share that one lucky Cha-Ching on a Shoestring reader will win a 3 month's supply of Barissimo Coffee and a $25 ALDI gift certificate!

Here's how to enter:
You have up to two possible methods of entry:
Leave a comment below letting me know which Barissimo Coffee you will like to try.
Subscribe to this site by e-mail  or in a reader and leave a comment letting me know you subscribed.  If you are already a subscriber, simply let me know in a comment.
Note: Be sure to scroll down to the bottom of this post to leave your comments.  (If you are reading this is an e-mail click here to do so.) By leaving a separate comment for each entry you will have a greater chance of winning!  E-mail responses will not be considered as an entry in the giveaway.
This giveaway ends at 10:00 a.m. EST on Saturday, February 28, 2015. I will randomly select the winning comment. Winner will be notified by email and listed on this site.
Disclaimer: ALDI supplied me with a gift certificate as well as the prize for this giveaway.  But as always, the rest is all me!