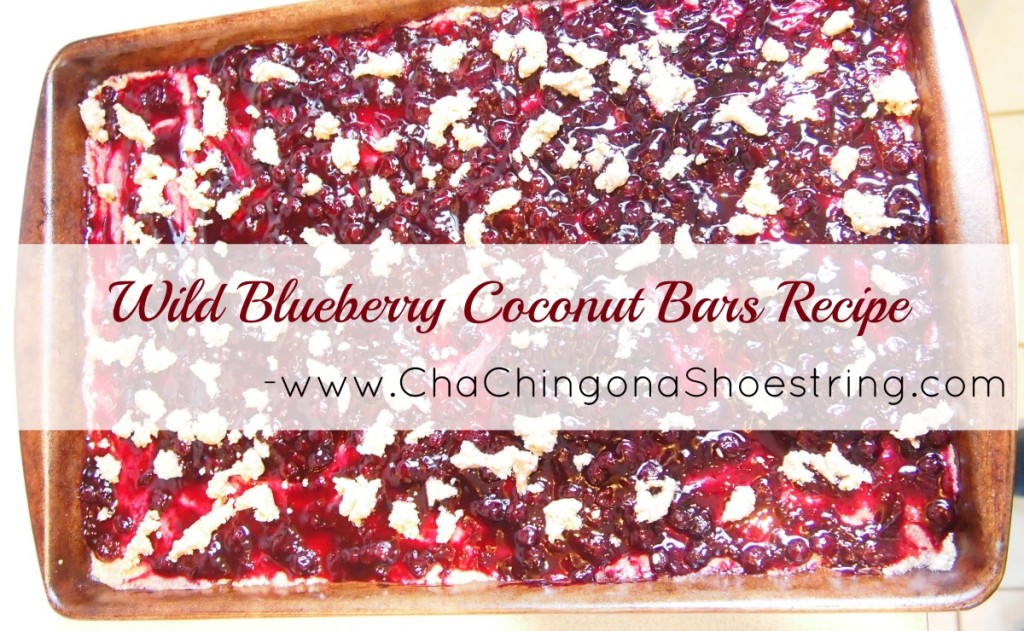 Here's another recipe from my Freezer Baking Day session. My friend Elizabeth offered to contribute this post since she actually did all the work on this one! And in case you are wondering – Yes. Elizabeth has 6 kids. So she wins the Awesome Award.
 ***
As I was planning what to make for my Freezer Baking Day with Kaley, specifically for lunches, I really loved the idea of having a "nutri-grain" bar type of snack. I went searching for a recipe on Pinterest of course, but it was actually difficult to find one that was simple and healthy. I finally settled on Wild Blueberry Coconut Bars. I loved that this recipe had coconut flakes and ripe bananas, two ingredients I always have on hand.
The other thing that appealed to me about the bars was there was no added sugar, except for the organic jam. I wasn't sure this would appeal to my kids, but I was willing to give it a try. I didn't have organic blueberry jam so I improvised and made my own. Something I do often trying to feed 8 people three times a day!!
Kaley did find Organic Blueberry Jam at ALDI, so we were able to try both versions.
I will admit, the bars did not turn out like I expected. The crust was much thinner than the pictures and the crumb topping did not cover the bars like I would have liked.
But the end result was almost like a thin crust blueberry pizza! My kids enjoyed the bars and I was thrilled to serve them a healthy, nutritious, yummy snack in place of a bar with too many ingredients to count or even pronounce.
So now that we've found a healthy version of fruit pizza, I am still on the hunt for an easy Nutri-Grain-like bar that I can have on hand for kids lunches or snacks on the go! Any suggestions?
 Wild Blueberry Coconut Bars Recipe:
For the Blueberry Jam, I used a simple recipe I found that didn't need pectin. I adapted the recipe from Crafts Ala Mode.
Here's how I made it:
Ingredients:
2 cups blueberries, fresh or frozen (I used frozen wild blueberries from Costco)
1 and ⅓ tablespoon lemon juice
Almost 1 teaspoon lemon zest
Put all ingredients in a saucepan and bring to a boil. Simmer for about 30 minutes, stirring occasionally until it is thickened, like jam.
And here is the recipe for the bars:
Adapted from Healthy Adjustments
Organic Wild Blueberry Coconut Bars
Serves: 12 bars (Although I cut mine smaller to make more!)
Ingredients:
½ cup organic sweetened coconut flakes
½ cup organic unsweetened coconut flakes
½ cup organic whole wheat flour or regular white flour
½ organic wild blueberry jam or homemade blueberry jam
 Instructions:
Line a 11×13″ baking sheet with either tin foil and spray it with a baking spray or with parchment paper. Set aside.
In a food processor place both sweetened and unsweetened coconut, oats and flour, pulse till all the mixture is fine like the flour.
Place it into a bowl, add salt, cinnamon and nutmeg, whisk to combine.
Mash a banana on a plate using a fork till it is creamy and smooth.
Melt unsalted butter, then mix in the mashed banana and pour it into the bowl with the coconut, oats and flour. Mix till all ingredients are moistened and it is crumbled. Reserve about ⅓ cup of the mixture and spread the rest of it out onto the baking sheet. Press it down to form a crust.
Spread the ½ cup of organic wild blueberry jam across the crust evenly then sprinkle the remaining crumbled mixture you reserved over top across the entire pan.
Place in the oven bake for 25 minutes.
Remove from oven when done baking it should have a nice golden brown color.
Allow it to cool for 5-10 minutes cut it into 12 bars or less if you want smaller bars.
They will stay fresh in an airtight container for 1 week in the fridge or frozen individually.
***
Note from Kaley: My family really enjoyed these. It's a nice sweet but healthy treat to add to a lunch. And I thought they tasted great even straight from the freezer!