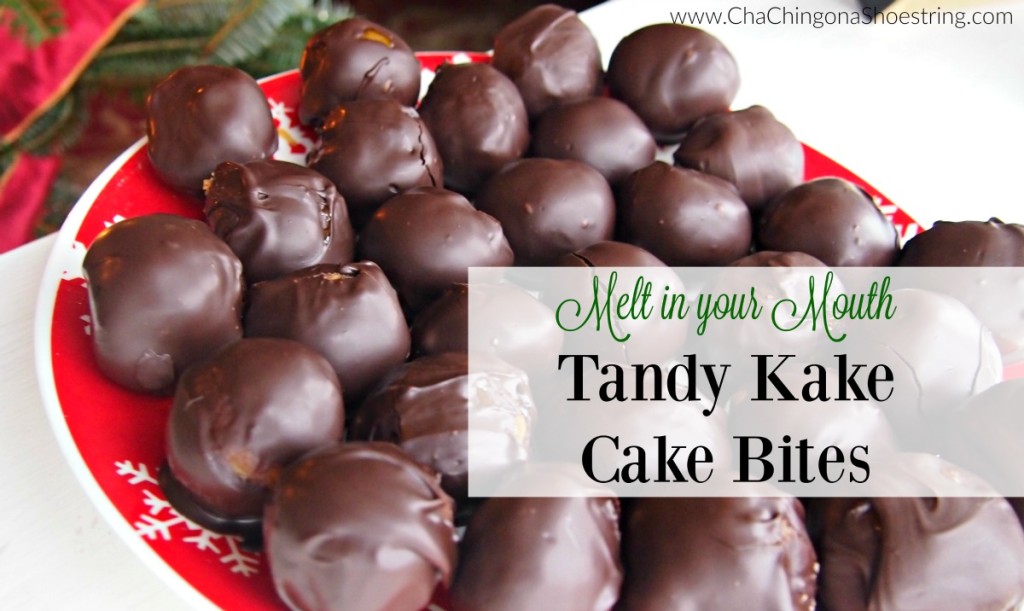 Tandy Kake Cake Bites Recipe
It was love at first bite. 
I've always known that chocolate and peanut butter are a match made in heaven. So when I was introduced to homemade Tandy Kake a few years ago, it was indeed heavenly.
You see, I discovered when I moved to the Philadelphia area that the people here are quite proud of their homemade Tandy Kakes – since they originate from the Philadelphia-based Tastykake company's version, now known as Kandy Kakes.
History lesson out of the way, here's the story that really matters.
Last week, I was at a Holiday Open House at our boys' school. They had some desserts on sale to support the school, so I bought some, seeing as it was my citizenly duty and all.
By some Christmas miracle, I was able to get my hands on the yummy-looking Cake Pop thing before any of my children did.
One bite and I heard the heavenly angels sing.
It was like all that is good and lovely about Tandy Kake in one little perfect bite.
I knew I must have the recipe for these bites of perfection, so I went hunting down the Baker and begged her asked her nicely for the recipe – wondering if she would even give up what was likely a longheld family secret?
"It's easy," said the Baker. "It's a box of yellow cake mix, some peanut butter, and dipping chocolate."
Delicious and easy?? I could not believe my ears.
In spite of my cynicism, I decided to test out the recipe the following week.
Dear readers, I don't believe that I am spreading lies when I say that this recipe will change your life. At least, it has mine.
You see, when I was growing up, my Mom made Peanut Butter Balls (or Buckeyes – whatever you prefer to call them) every year. I loved that tradition, but the last time I tried to make the recipe for my own children, it was a big fat FAIL for some unknown reason. So, I haven't made them since.
Now, I feel like I now have my own similar tradition to pass on to my kids. Just like my mom, I now get to teach my children the skills necessary to cover them with just the right amount of chocolate causing only a slight overflow onto the wax paper – which is truly an art form, as we all know.
And to be honest, I am on the fence over which recipe is more delicious – I might even be slightly leaning toward the Tandy Kake side. (Sorry, Mom.)
If you prefer, you could go an extra step and turn these into Cake Pops. I, however, am a simple girl, so one less step is good with me! They will taste the same whether you eat them with your fingers or on  a stick – and that's what counts.
Here is the easy peasy melt-in-your-mouth recipe:
Ingredients:
(1) Box Yellow Cake Mix + ingredients listed on box
1/2 – 1 c. peanut butter
(1) Bag of Melting Chocolate
wax paper
Recipe:
Make cake according to directions listed on the box.
Once the cake has baked, give it about 10 minutes to cool, then remove to cool completely on a baking rack.
Once cake has cooled completely, use a knife to shave off any crusty edges, then crumble into a bowl and add a 1/2 cup of peanut butter and mix well. (At this point, I checked to see if the batter was moist enough to make into balls and then added a bit more peanut butter.)
Place batter in refrigerator for at least 2 hours to chill.
After the batter has chilled, roll into into balls. Then, dip into melting chocolate and place on wax paper to dry.
That's it!
Life-changing, people.