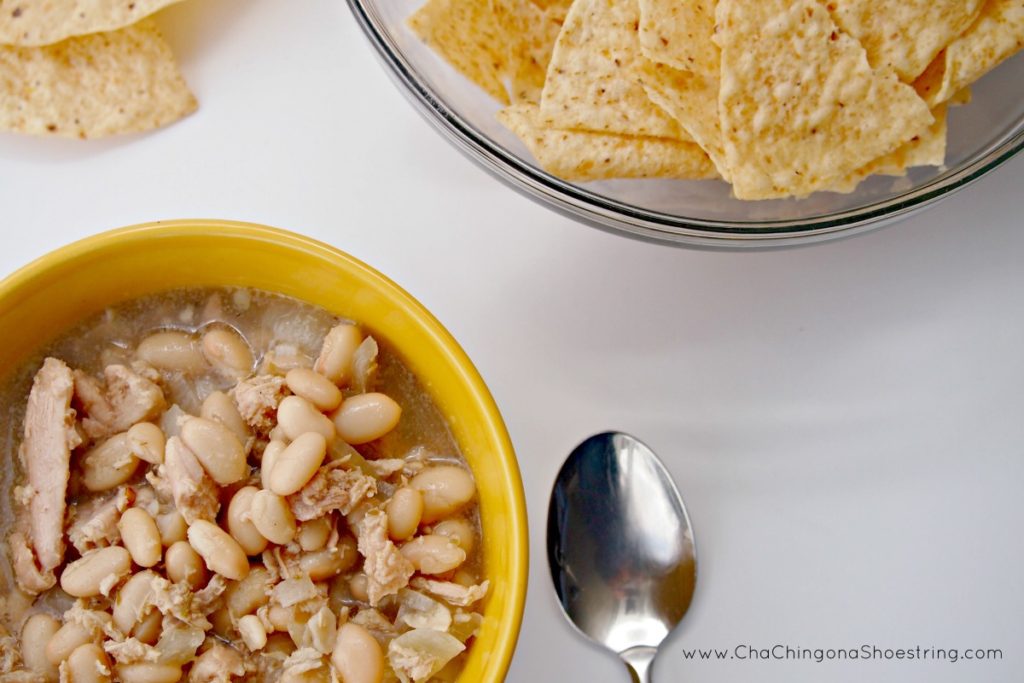 Remember the good ol' days when we actually used those dusty things sitting on our kitchen shelves called cookbooks? We would flip through the pages, glancing through the lists of ingredients and directions, guessing which recipes might be worthy of their very own slot in our menu plans. Without pictures or comments to guide our decision, it was a shot in the dark as whether or not a recipe would be a winner.
But THEN, when we did finally stumble on a delicious recipe, we'd grab a pen and scribble a little note in the column in an effort to remember our favorites. Notes like "Really good. Needs more salt." or "During a snowstorm. Double the broth." helped guide our future cooking endeavors during the pre-Pinterest era.
According to the note in the sidebar of my Better Homes and Gardens Biggest Book of Slow Cooker Recipes cookbook, I decided to give the Southwestern White Chili recipe on page 125 a try  in October of 2008, during the earlier days of my life as a homemaker. Scribbled in the sidebar of the now lovingly smudged page is the gold star of approval: "Soooooo Delicious!"
Since that time, I have returned to page 125 for many a snow day, football game party or simple family dinner. This recipe has never let me down. Without fail, friends and family ask for the recipe each time I serve it. It's such a delightful alternative to regular chili and yet for some reason, it doesn't get nearly as much recognition. It's time to change that.
I also love that this dish can be prepped in about 10 minutes time once the chicken is cooked and shredded.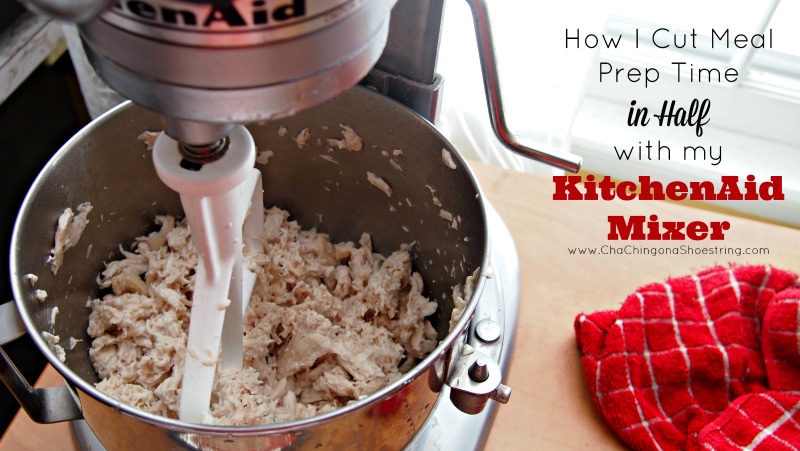 Note: To save even more time, this is where my secret to cutting meal prep in half with my KithenAid Mixer will come in handy.
In fact, you might want to go ahead and prep some chicken right now for future Southwestern White Chili endeavors then pop it in the freezer. I'll wait.
When your chicken is prepped, grab your ingredients, throw them all together into the slow cooker and your work is done.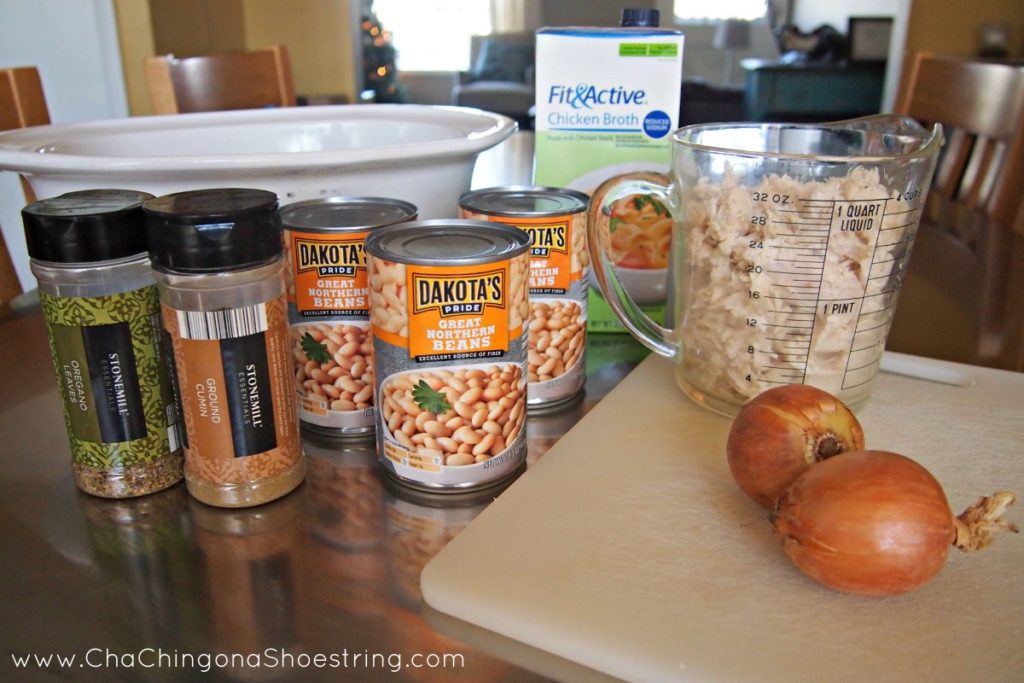 For some reason the garlic never made it into this picture.
Just promise me you won't forget the garlic for the actual recipe, ok?
And since you can't scribble a note in the cookbook for this recipe, feel free to jot one in the comments below. I'd love to know if you and family think this recipe is Sooooo delicious too!
Easy and Delicious Southwestern White Chicken Chili Recipe
Adapted from Better Homes and Gardens Biggest Book of Slow Cooker Recipes
Ingredients
1 cup chopped onion
4-5 cloves garlic, minced
2 teaspoons ground cumin
1 teaspoon dried oregano
1/4 teaspoon ground red pepper
3 15 1/2-ounce cans Great Northern Beans, drained and rinsed
4 cups chicken broth
3 cups chopped cooked chicken
2 cups Monterey Jack cheese
Sour cream
Instructions
Place the onion, garlic, cumin, oregano, red pepper, beans, chicken broth and cooked chicken in a 3 1/2 to 6 quart crock pot.
Cover and cook on low for 7 to 8 hours or on high for 3 1/2 to 4 hours.
Ladle the chili into bowls. Top with cheese and sour cream. Serve with tortilla chips or crusty bread.
https://chachingonashoestring.com/2017/01/31/southwestern-white-chicken-chili-recipe/