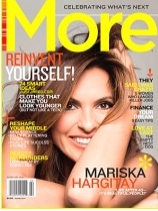 UPDATE: It appears that no one is having any luck getting this offer to work.  Let me know if you do!
Take a survey here to get a free subscription to More Magazine.  (You will need to select your industry.  If you click 'Other', you can choose 'Homemaker' as an industry.  I like that.)
Would you believe me if I told you that I ran the More magazine Half Marathon in NYC almost two years ago?  It was hard.  But hey–I made it across the finish line.  Even if it did take me a lot longer than I care to admit!

Thanks, For the Mommas!