I know this post is a bit lengthy, but I'd love it if you took a few minutes to read it.  It explains a lot about me!  Then be sure to comment or link up with your savings updates at the bottom!  I LOVE reading them!
I'm excited to be sharing my Saving on a Shoestring monthly update–and this time the month isn't even halfway through yet!
Since I shared last month that I reached my savings goal for the Cha-Ching! Christmas Club, I am going to be focusing on Project Cruise 2012 for the rest of the year.
Before I share my latest update, I wanted to talk a bit more about why Project Cruise 2012 has become my saving goal.
I'm actually giving myself a little Pep Talk here as well.  Lately I've found myself questioning whether this is the right time to be saving up for a cruise.  I mean…we just moved into a new home, the projects are looming, we have two boys who whose college savings accounts need to be funded, cars that will need to be replaced eventually, braces that will need to be purchased (no doubt!), weddings that will need to be paid for (or is that just the reception?) and the list goes on and on and on… (Kind of depressing, isn't it?)
But that's just the thing. The list does go on and on and on…there is a never ending land of future expenses just waiting to be explored.  And if you are anything like me, when I consider this fact, the first thing to go is planned recreation.  Date nights get eliminated, day trips to the shore don't happen, vacations get down-sized.
I really don't want that to be the way that I live.
Please don't misunderstand me. It's never a bad idea to look at your budget and determine what areas need to be downsized.  And if it's recreation that's taking up too much of a chunk, then definitely cut back!
But for me, I find that unless I am super intentional in creating space for this aspect of family life that is very important to me (spending time together making memories), then it doesn't happen.  (This is the reason why we scraped together our pennies and took the family to Walt Disney World on my husband's business trip a couple of years ago when I was 8 months pregnant.  You can read about how we made it happen on my former blog here.  Even before Cha-Ching, I still was a deal-seeking mama!)
Does every event have to be Walt-Disney-Sized-Fun?  No. Way. Most of our memory making takes place completely free (or cheap!): free concerts at the park, watching movies borrowed from the library, hanging out with friends and family, barbecuing in the back yard. (This past summer, my 5 year old son and I made a Summer Fun List that was full of free and fun activities.  Horse-back riding at a friend's camp was definitely a highlight!)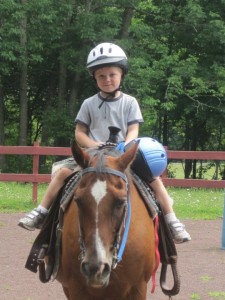 But if we are:
sticking to our budget (which we are!)
and future expenses are being planned for (they are!)
and making room for generosity (Lots to say about this one!  Too much.  Look for a post soon.)
…then saving our pennies toward a cruise in a couple years sound like a SUPER fun way to celebrate!
And that's all I have to say about that. 🙂
So here's the latest on how those pennies are piling up:
Project Cruise 2012: We are  still at 17%, but getting closer to 18%!
*****
How about you? Have you been saving and scrimping toward a reward or are you a part of the Cha-Ching! Christmas Club?  Then leave a comment or a link below sharing your savings update.  And then PLEASE encourage each other by leaving comments here or on the blogs listed.  If we work on this together, it will be so much more fun!
AND just to add to all the fun going on around here, I will give a $5 Amazon gift code to one person who leaves a direct link to their savings post or a comment sharing an update on their savings.  (I figure it's just one more way to help you save on that shoestring!)
This giveaway will end October 8  at 1 p.m. EST. I'll use Random.org to select the winning comment or link. Winner will be notified by email and listed on this site.
Note: If you have a blog, here is the HTML code for the Saving on a Shoestring button above:
<p><a href=" https://chachingonashoestring.com/category/saving-on-a-shoestring/" title="Saving on a Shoestring"><img src="https://chachingonashoestring.com/wp-content/uploads/2010/03/Saving-on-a-Shoestring-button-1252.PNG" alt="Saving on a Shoestring" /></a></p>