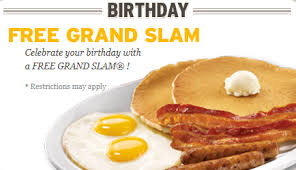 FREE Birthday Stuff: FREE Grand Slam at Denny's Restaurant!
Start your birthday out right with a FREE Grand Slam Breakfast at Denny's!  Simply bring in proof that it is your birthday to get your free meal.  Some restrictions do apply so be sure to contact your local Denny's restaurant to find out the rules. You will find more information listed in the "Specials" section of their website.
While you're at it, sign up for the Denny's Rewards Club to get specials, promotions and exclusive coupons delivered right to your inbox.
Click here to sign up.
Looking for more great birthday offers?  Check out all the other FREE Birthday Stuff I've posted!