Would you like to have these great deals delivered right to your inbox? Subscribe to our email digest. Or if you use a feed reader, subscribe to our RSS feed. Thanks for stopping by!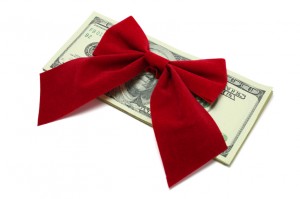 Ready for my next super secret step in my money-saving strategy for Christmas this year?
(In case you are new around these parts, I am planning on spending no more than $50 on Christmas this year–without being a Scrooge or knitting a single thing.  You can read parts 1 and 2 here and here.)
I just ordered this Christmas gift for my one year old, Lincoln. Besides being cute, it also teaches the names of shapes and colors and has a multi-lingual switch that allows baby to hear the shapes in English, Spanish, and French.  And my favorite part?  It has an on/off volume control.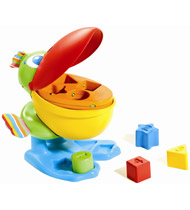 Guess how much I paid?  Mmhmm.  You guessed it.  Not a cent.
I ordered it through the Pampers Gifts to Grow program. Been entering codes faithfully for many years now and finally decided it was high time to use them!  (My Mother in Law deserves props for entering codes for me as well!)
Are you a Pampers Gifts to Grow member? If so, do you have enough points to grab a Christmas gift for someone this year?  There are a wide range of gifts available for baby or for others (i.e. an Applebee's gift card).
I am crossing my fingers that this will come in time, however.  It says it should arrive in 8-10 weeks.  So, I guess there's a chance that it will be a birthday present instead!
If you aren't a Pampers Gifts to Grow member yet and still have a baby in diapers, you can sign up here.  Then start saving up your points for next Christmas!  (Look for codes on packages of diapers and wipes.)
The following codes should get you some free points to start off with:
GRATUIT89102009
THRIFTYMOMMYGTG
STARTEARNINGNOW
Plus, did you know that through 11/05/2009, you will get triple points for codes found on Pampers Wipes?  If you have some Pampers wipes, be sure to add your codes before Thursday!