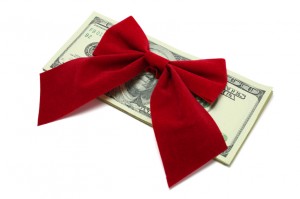 I've really enjoyed your responses to my first  "How I Plan To Spend Less Than $50 on Christmas This Year" post.  (Whew—should've picked a shorter title.  I might need a coffee break and I'm only getting started!)
It also helped me realize that I should clear a few things up:
1)  I plan on spending no more than $50 after all of my other resources have been used up. (You will have to stick around for the next few weeks to find out what those resources are!)  I do have many resources that will allow me to purchase much more than $50 worth of gifts.  We simply won't feel it in our budget.
So have no fear, Mom.  You will still receive a lovely gift.
2)  I. don't. do. crafts.
It's not that I don't wish I was craftier.  I see what my friend Beckie does with her hands on a daily basis and I sigh a little sigh of jealousy.  It's just not my thing.
So, part 2 of the plan is NOT that I will be knitting enough scarves and sweaters and socks to clothe all those on my Christmas list.  Sorry if that's a disappointment.
3)  Much of my plan involves some long-term thinking.  So, it will most likely not be feasible for you to implement it for this Christmas.  But, I hope that I can encourage you to put my strategy into place now for next Christmas. I know you will be glad you did.
That being said, I will share one aspect of the plan that you can begin right now.
I spent a good chunk of time yesterday filling out my rebate information that has been piling up.  I posted about these rebates here, here, here, and here.  I think many people discount rebates as a ploy that companies use to get you to buy their product.  However, when used properly, they are a great way to save money!
When all is said and done, I will have spent less than $10 out of pocket for the above rebates which are around $40-$50 in value.  My plan is to put that money directly into my Christmas fund.  (Or if it's a product, I can use it as a gift!)
Do you want to get started on this idea?  Here are some rebates that are currently available.   (As well as some great ideas on how to use them!)
Did I miss any?