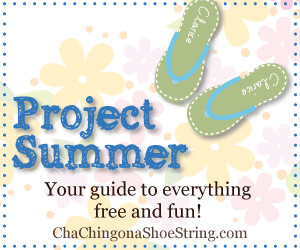 Update: Make sure to print out my downloadable Project Summer Planner to help you make the most of this list!
I am SO excited to reveal to you a little project I've been working on behind the scenes.
Summer is HERE and I have YOUR guide to all things free and fun for the whole family.  Grab your calendar and start penciling in your Summer Fun Plan!

Reading Rewards Programs:
Borders Double Dog Dare You Reading program: Kids 12 and under can join the Borders Double Dog Dare You Reading program.  They will earn a free book when they read 10 books, fill out this form and bring it in to any Borders, Waldenbooks, or Borders express store by September 5, 2011.
Barnes & Noble Summer Reading Club: Kids in grades 1-6 can receive a free book from Barnes & Noble by reading 8 books over the summer. They will need to fill out a Summer Reading Journal and bring the journal to a B&N location when they are finished to choose a free book.
Hebuddy.com Summer Reading Club:  HeBuddy.com is offering 'cool prizes' to kids who read 10 books this summer (including a FREE T-shirt!) After your child is done reading (or you can read to your child), just fill out the form and mail it in by October 1, 2011.

Half Price Books Feed Your Brain Program: Children 14 and under can earn a free $5 gift card to Half Price Books each week they read (or are read to) for 15 minutes at least five days.  This program runs from June 1 – July 31, 2011.  Turn in your completed reading log at Half Price Books July 25 – August 7 to receive your reward.  See more details here.
TD Bank Summer Reading Program: Kids ages 18 years and younger can get $10 added to their new or existing TD Bank Young Savers Account when they read 10 books this summer and turn in their reading log at their local TD Bank.  Offer valid through September 30, 2011.
Pottery Barn Kids Book Club: Kids ages 10 and under will receive a FREE book at their local PBK store after completing a recommended reading list.  Pottery Barn Kids also holds story time every Tuesday from 11:00-11:30. (Check your local store to confirm the time and date).  After attending 5 times, your child will receive a free gift.
thredUP.com: Through June 14, ,thredUP will pay $5 in swapping credits for their used books.  They'll also receive a Summer Reading Package worth over $40 for simply recycling books on thredUP.  Learn more when you sign up here.
Your local library: Be sure to find out if your local library is offering any reading rewards programs throughout the summer.

Free or Cheap Movie Admission:
Regal Free Family Film Festival: Beginning in June, select Regal Theaters will be offering $1.00 G and PG rated movies on Tuesdays and Wednesdays beginning at 10 am.  Click here to find a participating theater near you.
National Amusements Bookworm Wednesdays: Kids can get free admission to a select children's film every Wednesday at 10 a.m. when they present a book report at a participating Showcase Cinemas, Multiplex Cinemas or Cinema de Lux box office. Accompanying parents or guardians and children under six also receive free admission and do not need to submit a book report. Program begins July 6 and ends August 10.
Cinemark Summer Movie Clubhouse: Participating Cinemark theaters are offering $1 family-friendly movies on select weekday mornings throughout the summer. You can opt to  purchase an advance pass for all ten movies for just $5 making them only $0.50 each! Find a list of participating locations, dates and times here.
Local Theaters: You also may want to contact your local theater to find out if they are offering any special admission events.

Free Craft Projects:
Free Activities:
Blue Star Museums: From May 30 to September 5, 2011, more than 1,000 museums are offering free entrance to active duty military personnel and their families.
Kids Bowl Free Program: Kids can  bowl free this summer! By participating in the "Kids Bowl Free" program, children can bowl two free games per day. Go here to find a participating location near you.
Free Bowling at AMF: Register your children to get weekly coupons via email for two free games per child per day at participating AMF bowling lanes all summer long.
Target Arts + Culture: Target sponsors free or reduced-price admission to arts and cultural events in participating cities nationwide.  Find out if there is anything going on in your area.
Free Admission to National Parks: The National Park Service will offer free admission at more than 100 National Parks on the weekends of June 5-6 and August 14-15. Go here for more information.
Apple Summer Camps: Select Apple Retail stores offer a camp where kids ages 8-12 learn the ins and outs of iMovie and how to make a film in about the time it takes to watch one. The workshop, held at the Apple Retail Store, spans three days, and leads up to an Apple Camp Film Festival where campers debut their masterpieces.  Click here to learn more.

BoA Free Museums: If you have a Bank of America Credit, Debit or ATM card, you can get free admission to over 100 participating museums, zoos and science centers the first full weekend of every month.
Summer of Fun Calendar download: UnitStudy.com is offering a free Summer of Fun Calendar download with fun activities to do during summer with your children.
Bass Pro Shops: From June 4-July 10, Bass Pro Shops are offering Family Summer Camps with special activities on Tuesdays, Thursdays, Saturdays, and Sundays.  Activities include shooting galleries, crafts, s'mores cookouts and more.  Click here to learn more.

Your local library: Be sure to check in with your local library to find out if they are offering free children's activities throughout the summer.  I love participating in my local library's events over the summer!
Reading Programs for YOU!
Are you aware of any other free fun this summer?  Leave a comment and let us know!