I did some shopping yesterday at Redner's, Target, and Aldi and found some fun deals.
Here is my Redner's purchase: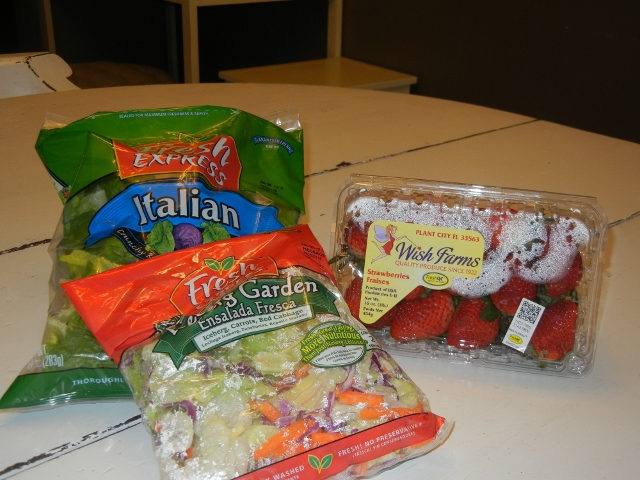 In my area, Redner's is offering a FREE 16 oz. package of Strawberries this week with the purchase of any (2) Fresh Express salads.  I was excited about this deal because I have some $1/2 Fresh Express Salad coupons from a Vocalpoint mailer a while back.  The bigger bag of salad was $2 and the smaller bag was only $0.98, so this was my deal:
Buy (2) Bags of Fresh Express Salad, $2.98
Get FREE package of Strawberries
Use $1/2 coupon
$1.98 total for two bags of salad and Strawberries!
Saved: $4.96
Here is my Target purchase: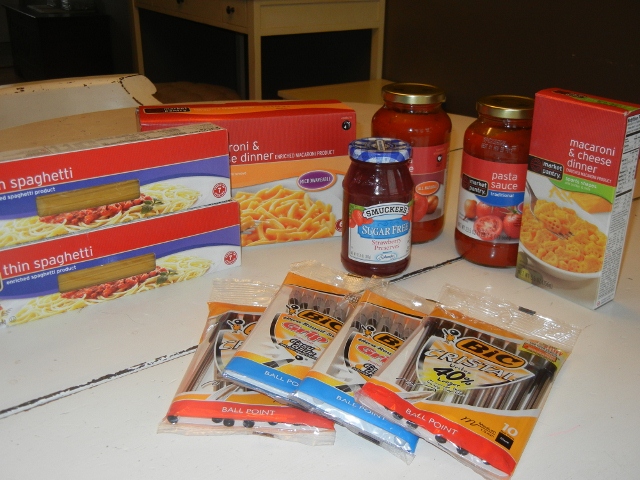 I scored some fun deals at Target too.  Here are my deals:
Two Jars of Market Pantry Sauce @ $1 ea.
Two packages of Market Pantry Pasta @ $1 ea.
Use (2) $1/2 Market Pantry Pasta Sauce AND Dry Pasta, TARGET coupon
Four packs of Bic pens
Use (4) $1/1 BIC Stationery Product SS Insert 01/08/2012 (exp 02/15/2012)
One jar of Smucker's Sugar Free Preserves @ $2.19
Use $1/1 Smucker's Sugar Free Product coupon
One box of Market Pantry Mac n Cheese @ $0.67
One box of Market Pantry Mac n Cheese (6-pk) @ $1.59
Use (2) $1/1 Market Pantry Boxed Macaroni & Cheese, TARGET coupons
$3.78 total after coupons!
Used $5 gift card from the Flintstone's Vitamins offer a few weeks ago.
FREE after coupons and gift card!
Saved: $13.27
I didn't get a chance to take a picture of my Aldi purchase, but I spent $45.50 total on this week's E-Mealz shopping list.  Some of the highlights were: Boneless Chicken Breasts for $2/lb., a pineapple for $1.89, dozen eggs for $0.88, and English Muffins for $0.99.  I estimate that I saved about $15, even with no coupons involved!
Total Spent: $47.48
Total Saved: $33.23
Have you gotten any great deals this week?