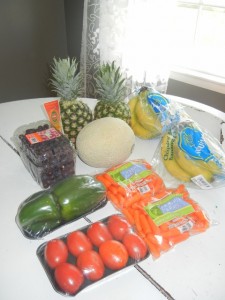 I have mentioned many times before that I have a very fond place in my heart for Aldi.  Yesterday was a reminder to me why.  They often have incredible prices on their produce, but I seemed to hit the jackpot in this shopping trip.
The total price for everything pictured above: $9.41 (Some of you on Facebook were verrrry close with your guesses!)

For some reason, almost every item was marked down from their regular price:
Bananas, $0.19./lb.
Pineapple, $0.99 ea.
Cantaloupe: $0.99
Grapes: $1.24/lb. (reg. price)
Package of Roma tomatoes, $0.69
Bags of Baby Carrots, $0.49 ea.
Package of Green Peppers, $1.19
If only we could stockpile fresh produce!  But since I've been craving sweet things lately (which I blame on being 8 months pregnant, right?), I stocked up as much as I could and plan to indulge on sweet, juicy pineapple instead of those Reese's Peanut Butter Cups I got for free at CVS this week. 🙂
I actually have done quite a bit of grocery shopping this week since I spent so little last week.  Here are my totals:
Aldi:
Spent: $57.87 (I purchased the items for this week's Emeals plan.)
Saved: Approximately $25
Landis:
Spent: $63.33
Saved: $27.69 (highlights included Ragu Pasta Sauce for $0.50, Skippy PB for $1, and Dole Fruit Cups for $0.49)
CVS:
Spent: $0
Saved: $10.94 (Mars Easter singles, Egg dye and grass for Easter baskets)
I also was very excited about a find at Target.  I still had the $3 off Merona apparel coupon that was available a few weeks ago.  I found a lovely turquoise dress on a clearance rack for $7.06 (reg. $27.99) making it only $4.06 after coupon!  Even better, the dress fit me as a maternity dress and will make a lovely Easter dress.  (I noticed that there are still some $3 off Women's apparel coupons on the Target site.  These could score you something FREE on clearance!)
Target:
Spent: $4.06
Saved:  $23.93
Total Spent: $125.26
Total Saved: $87.56
Have you found any great deals this week?