As I promised last month, I plan to hold a Monthly Saving Checkup here to help keep all of us accountable and motivated to reach our savings goals.
But first…an Update on Project Well.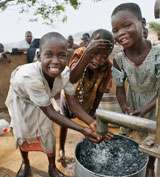 I shared last year that my family had a goal to save enough money to donate a well that will bring clean water to a community of up to 150 people through World Vision.
I am happy to share that last month, our dream became a reality.
After several years of setting aside money each month, it was a joy to finally be able to accomplish our mission.
We gave our two older boys the opportunity to join us by adding some of their chore money each week to our 'Project Well Jar'.  They often surprised me by adding more than our suggested amount.  We could all learn a lot from our kids, don't you think?
Thanks for letting us share this Giving Journey with you.  It's easy to focus on how much more needs to be done, but today I'm celebrating!
Cha-Ching! Christmas Club Update:

If you are just starting on your Cha-Ching! Christmas Club Savings (or any other savings), don't feel bad. I am too!
Totals:
Swagbucks: $35 in Amazon Gift Cards
Ibotta: $30 in PayPal Cash
Crowdtap: $15 in Amazon Gift Cards
Total: $80
*****
How about you? So what are you saving for right now? 
Be sure to check out my series on earning extra cash online to help you reach your goals!