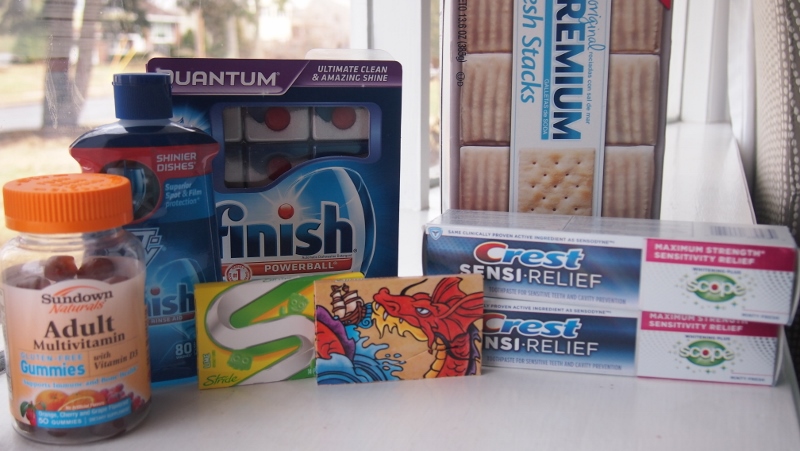 If you were a fly on the wall yesterday in my car, you would have heard this conversation:
Me to my son: I just GOT PAID to buy this entire bag of stuff.  Doesn't that make me really cool??
My son:  Um…
Me: Don't you wish you could get paid to buy stuff?
My son: I'm 8, Mother.
Just a little glimpse into my life.  I was kind of hoping to earn Cool Mom Points on this one, but looks like this kind of awesome is lost on an 8 year old. 🙂  I hope you have better luck!
Anyway, it was a GOOD day at CVS yesterday.  I really and truly got PAID to buy all of the items pictured above.  Cue the music: Oh what a feeling!
Here's how: 
Transaction #1:
Buy (1) Sundown Naturals Adult Gummies, $7 – Get $4 ECB's
Buy (2) Crest Sensi-Relief, $4.99 ea. – Get $8 ECB's
Buy (1) Finish Jet Dry Rinse Agent, $6.29
Bu (1) Finish Quantum 10 ct, $2.65 (B1G1 50% off)
Use $5 off $25 coupon from CVS Email
Use $2/1 Sundown Naturals coupon from RP 3/16
Use (2) $1/1 Crest Sensi-Relief Coupons from In-store Blinkie (also $1/1 coupons here)
Use $0.75/1 Finish Jet-Dry Rinse Aid Or Turbo Dry
Use $0.75/1 Finish Automatic Dishwasher Detergent
Use $10 in ECB's from last week
$5.58 after coupons and ECB's!

Transaction #2: 
Buy (2) Stride Gum, $2 – Get $1 ECB's*
Buy (3) Saltine Crackers, $3 – Not a great deal, but I had a sick kiddo at home. 🙁
Use $4 in ECB's from previous transaction
$1 after ECB's!
*Note: There is a $1/2 coupon in some newspapers for the Stride Gum.  Unfortunately, I did not receive it mine.
So, in case you are wondering how I got paid for these transactions, there was a FREE after rebate form in yesterday's paper (SS 3/16) for Finish Detergent (up to $4.99) AND Finish Jet Dry (up to $4.50).  I decided to use it in this transaction even though I paid  more than $4.99 for the Detergent because it allowed me to use my $5 off $25 purchase coupon without really paying $25.  I love it when that happens!
So, I will receive $4.50 for the Jet Dry and $2.65 for the Detergent for a total of $7.15 via rebate.  That makes this a profit or $0.57!  I know…I know…I should take away the cost of the stamp, but let me just soak this up for a bit, ok? 🙂
On a side note: If you find the Finish Detergent and Jet Dry priced right elsewhere, you can turn this into a moneymaker just by using the $0.75/1 coupons listed above for each.  Most rebates give you back the full purchase price before coupons, so you'll pay $1.50 less than the amount you receive from the rebate – Cha-Ching!
OH!  And I also have $10 in ECB's for next week. 

How about you did you score any great deals this week?  And, as always, I want to help you score great deals too, so feel FREE to ask any questions, ok?  It's why I'm here!
Click here to check out the rest of the CVS deals this week.
Want to learn more about my 20 Minute Couponing System?  Click here.