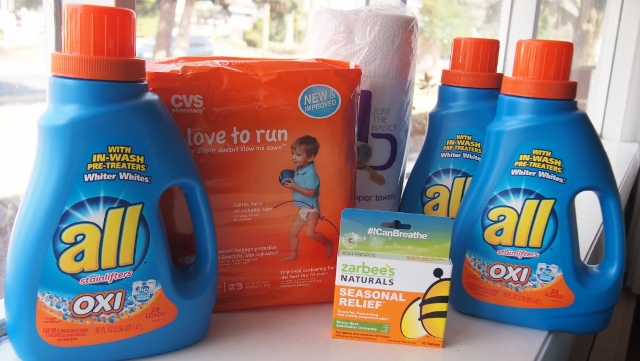 It was another moneymaker week at CVS.  I could get used to this getting paid to shop thing, you know?
This week I was sent a $10 ECB survey from the CVS Advisor Panel, so that definitely helped!  They have been quite generous with their surveys lately. Have you guys signed up? Are you getting surveys? I'd love to hear about your experience.
So here is how I was paid $0.21 for everything pictured above ($44.35 worth of products):
Buy (3) ALL Detergent, $7.79 (Buy 1 Get 2 Free)
Buy (1) Just the Basics Paper Towel Roll, $0.79
Buy (1) Zarbee's Seasonal Relief, $7 – Get $7 ECB's
Buy (1) CVS Brand Diapers, $6.99 – Get $3 ECB's
Use $2.00/2 All Laundry Detergent – 3-2-14 RP (exp 04/13/14)
Use $1.00/1 All Laundry Detergent Product
Use $0.79/1 Just the Basics Paper Towel coupon from Coupon Printer
Use $8 in ECB's from previous week
Use $10 in ECB's from CVS Advisor Panel
Pay $0.79 after coupons and ECB's
Submit for $1/1 Checkout 51 ALL Detergent offer
$0.21 moneymaker after Checkout 51 rebate!
Plus I received $10 in ECB's for my next trip!
Click here to check out the rest of the CVS deals this week.
How about you?  Did you score any awesome deals this week?
Want to learn more about my 20 Minute Couponing System? Click here.