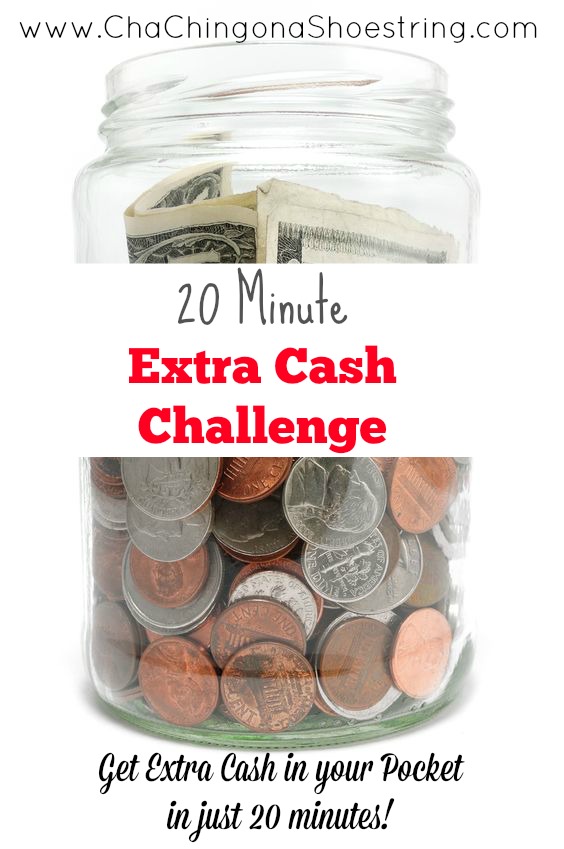 Welcome to Day 9 of the 20 Minute Extra Cash Challenge!
We are currently working our way through the sites that will become a part of our Daily 20 Minute Extra Cash Checklist.
So far we've signed up for and learned easy ways to earn free stuff, gift cards and cash in the following ways:
What's New Today?
Today I want to introduce you to one more site that I recently discovered called Quick Rewards. Not only is it very easy to earn cash with Quick Rewards, but there is also no minimum required to cash out! Cash out at any time, as often as you'd like.  Unlike most sites that require you to earn $10 or more to cash out, I was able to transfer just $0.50 into my PayPal account after a few days of earning. I love seeing my little savings tracker pop up a few cents – makes me feel like I really am adding money to my virtual change jar!
Don't prefer PayPal? You can save up and cash out at as low as $5 for gift cards, including Amazon and eBay, Disney, CVS, Target, Walmart, Kohl's and more. Oh – and my personal favorite – Dunkin Donuts!
Earn Fast with Easy Tasks:
At first, I found the Quick Rewards site layout a bit overwhelming. But I soon discovered that my favorite section is the "Daily Clicks" section on the left side of the site. This section offers payment for tasks as simple as clicking on a site or watching a quick video. You can even get paid for listening to radio online- which is nice since you can be doing other things while listening.
FYI: I tried one survey and I found it to be not worth my time, so I only recommend giving that a try if you have extra time on your hands.
Insider Tips: 
I recommend going into your account and opting out of all emails after you sign up. If not, you will receive A LOT of emails. I prefer simply finding opportunities via the Quick Rewards site.
If you decide to cash out via PayPal, just a heads up that the password that is requested when you cash out is your Quick Rewards password – NOT your PayPal password. It took me several days to figure that out. 🙂
Some earning opportunities offer a certain number of Quick Points rather than a dollar amount. The value of 100 Quick Points is $0.01. Once you earn 100 Quick Points, the system will automatically convert it into cash for you.
As I've mentioned before, you won't get rich with these offers, but by completing a few tasks each day during our 20 Minute Challenge, you'll easily add a few dollars to your Extra Cash monthly earnings.
Click here to sign up for Quick Rewards.
How about you? Can you recommend any other sites that pay you for easy tasks? Leave a comment and let's help each other out!
Up next: Check out the 20 Minute Extra Cash Daily Checklist!