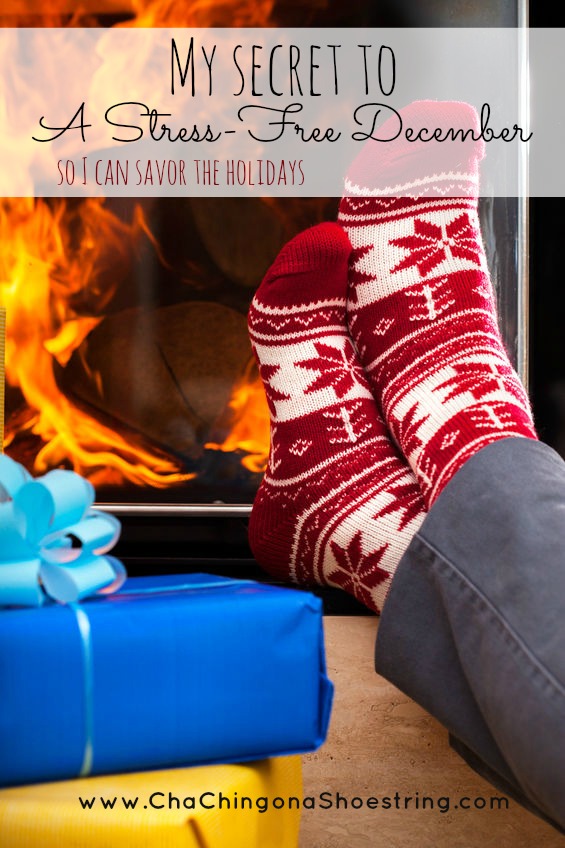 My Secret to a Stress-Free December
And just like that – the calendar page turns and Christmas is right around the corner.
If I'm being real, it wasn't too long ago that the imminent arrival of Christmas struck fear in my heart. My theme song for the holiday season wasn't as much "Joy to the World"as it was "Blue Christmas". As hard as I tried to do Christmas well, the stress of the season overshadowed the joy I knew I was supposed to feel.
Then there was that year that I cried on Christmas and everything changed. I knew there had to be a better way.
Then I stumbled upon something that finally allowed me to participate in the wonder of the holiday season just like my children do. And I'm about to share it with you.
Are you ready? My secret to a stress-free December is: 
November. 
I used to be the one declaring that the word "Christmas" should not escape our lips until 12:01 am on the day after Thanksgiving and not a second sooner. And I still hold back from starting any Christmas traditions with my kids until then.
But now November is my month. I grab my To Do list and knock out as much Christmas prep as possible. All in the hopes that I can actually savor the Advent season.
There are three parts to my strategy:
1. 20 Minute Missions.
Each day in November, I tackle an item on my To Do list for 20 minutes. From Christmas cards to photo projects to de-cluttering, my goal is that by the end of the month I will have put in hours of Christmas prep without feeling like I did. And the result is a long list of to-do's has become a very short list.
I'll be sharing my 20 Minute Missions on The Merry Little Christmas Project Facebook page each day. Want to join me? Head over and LIKE the page to be part of our Christmas-loving community.
2. Shopping Complete by December 1st.
Sound crazy? Maybe, but it sure beats fighting the masses on Christmas Eve – as I've been known to do a time or two before.  I've found that crossing this off my To Do list in November has allowed me SO much more time to partake in the wonder of the Christmas season in December.
Are there usually still a few gifts to buy in those last few weeks? Sure. (I don't want to mention any names, but some husbands people have a hard time getting their lists to me in a timely fashion. Ahem.) But this is my biggest stress reliever of them all – and it CAN be done!
3. Wrapping it Up.
Gone are the days of staying up all hours of the night the week before Christmas to finish wrapping all. those. presents.
I had a brilliant idea a few years ago – why not wrap presents as I buy them instead? Ok, so maybe I wasn't the first person to make this discovery, but whoever did sure was smart.
So my goal is to wrap all my gifts during the month of November. What works for me is to set aside some time each Friday to do so (using my Gift Wrap Station, of course!). You might prefer to wrap presents as soon as you get them home or set aside a couple days during the month to accomplish the task. Whatever works for you!
One small word to the wise – be sure to find a way to indicate which gift is which. It's easy to forget by December 25th! (I use my Gift Budget Tracker for this.)
Is a Stress-Free December Even Possible?
Of course, is there still a chance that there will be some stress in December? Sure. Christmas has a way of making us long for perfection – and when we don't find it, stress is sure to pop up its ugly head. But, I promise – if you'll tackle November with me like this, you'll be singing "Joy to the World" all December long! And I'll be singing along.
So what do you think? Are you ready to take the November Challenge with me? 
Want to transform your Christmas with us? My Book The Merry Little Christmas Project – Five Words that will Transform your Christmas has helped thousands of women do just that. If you have ever wished that Christmas didn't have to be so stressful, I wrote this book for you. Click here to learn more and begin simplifying and organizing your Christmas with me!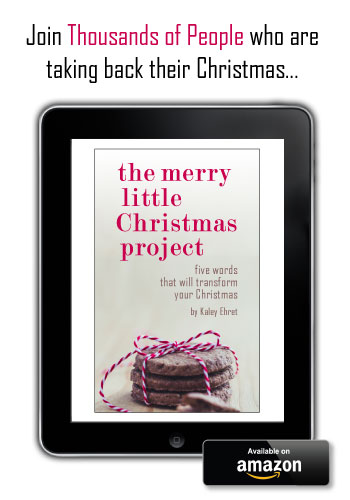 Want help with your Christmas shopping?  I send out one email a day with all the BEST deals I've found on Christmas gift ideas.  
Click her
e to sign up – it's FREE! (Plus you'll get a free Christmas Gift Budget Tracker just for signing up!)