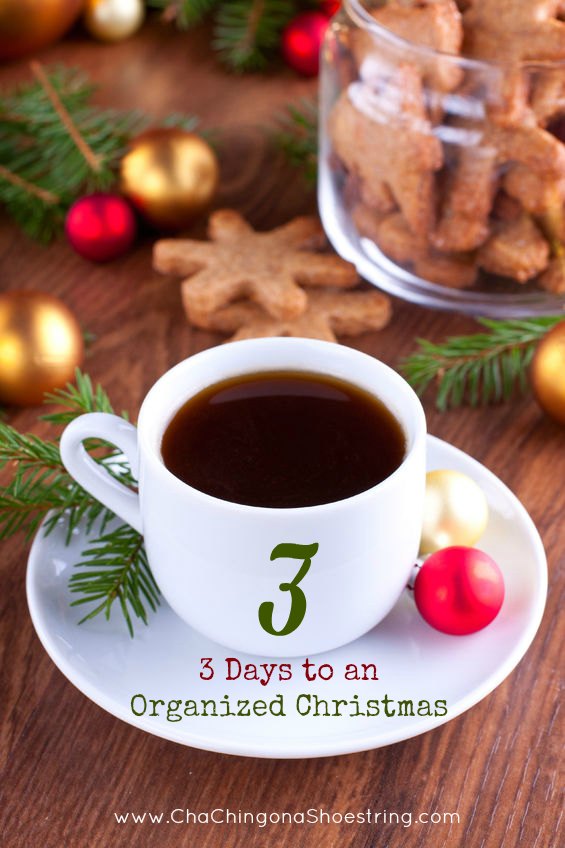 In my never-ending quest to Do Christmas Well, I'd like to invite you to join me this week in my own personal challenge: 3 Days to an Organized Christmas.
Today is Day 3! Let's organize our stuff today. 🙂
Last year, I created my very first Christmas Wrapping Station. With $12 and a few hours, I had a very practical new system for storing gift bags and boxes, wrapping paper, and supplies that completely simplified my Christmas wrapping process.  It helped eliminate the stress of trying to hide all of my supplies and gifts in my closet as I had done in the past. It was one of the BEST ways that I have ever prepared for Christmas.
Whether or not you have space for a Christmas wrapping station, ask yourself today "Can I simplify my Christmas wrapping process?" You might want to consider stocking up on gift bags at the Dollar Store or even using pillowcases to wrap gifts like my Mom taught me to save time on Christmas wrapping. I also recommend checking out this post with Gift Wrap Storage ideas.
Or maybe you LOVE wrapping gifts and want to be even more creative this year. May I suggest taking a look at my Mom's Gift Wrapping Ideas series? She is full of super fun and simple tips to add a little pizzazz to your gifts.
Either way, take today to check your supplies and make a list of any items you need to buy.
Supplies: 
-Scotch Tape
-Wrapping Paper
-Gift Bags
-Gift Boxes
-Tissue paper
-Gift Tags and Labels
-Ribbons
-Bows
-You might want to take time to consider any supplies you'll need for handmade gifts this year as well.
As for me, my Christmas wrapping station needs a little TLC as it has collected a few random items since last Christmas. I'm going to tackle that today and add a couple new touches to pretty it up a bit. I'm excited!
Are you ready to wrap?
I'll be sharing my gift wrap station progress via Instagram and The Merry Little Christmas Project Facebook page and I'd love for you to join me! I'll be using the hashtag #MerryLittleChristmas if you'd like to do the same.
Here's the rest of the series in case you missed it: 
3 Days to an Organized Christmas: Dreaming and Planning (Day 1)
3 Days to an Organized Christmas: Beautiful Budgets (Day 2)