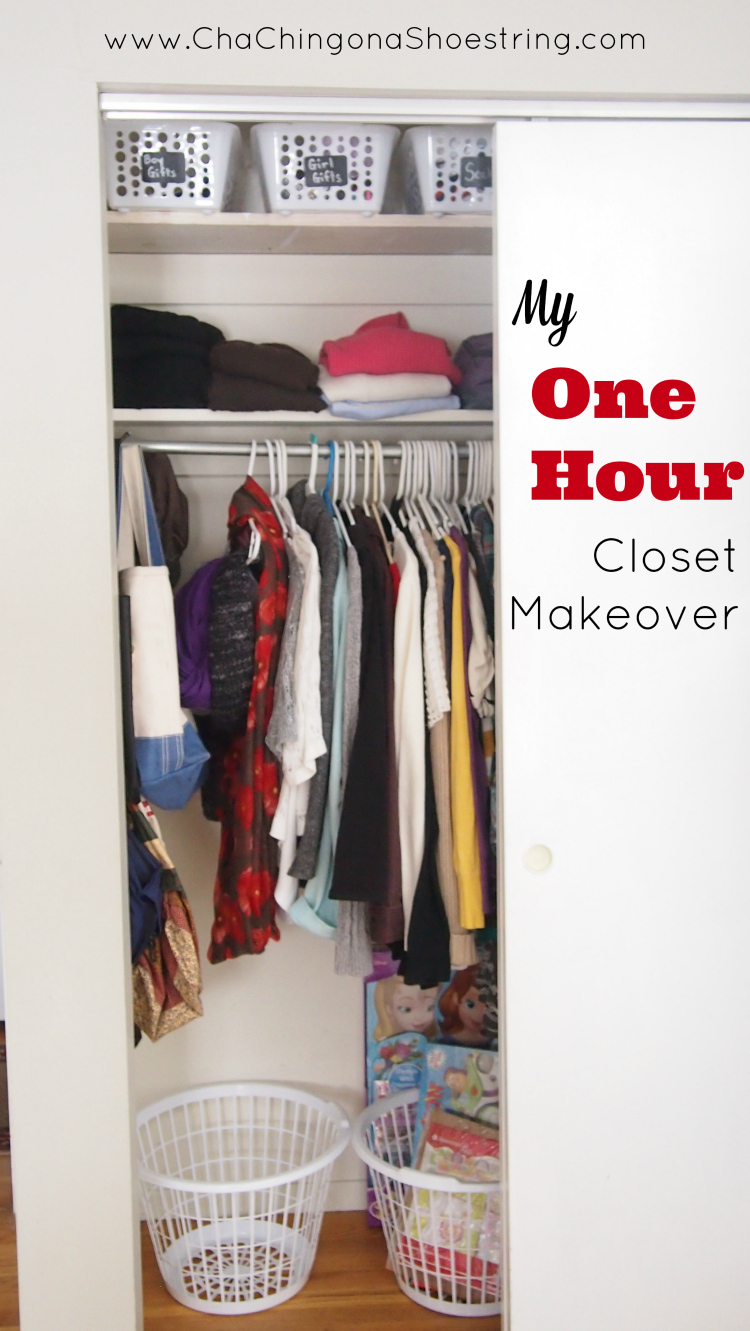 Close your eyes for a minute with me and picture that space in your house that beckons to you to "CLEAN ME", "ORGANIZE ME", "HELP ME" daily – but is somehow always the last thing to get cleaned, organized, or helped.
Can you picture it? Is it a bathroom closet? Maybe it's your garage or your kitchen cupboards? (If nothing comes to mind, you have my permission to skip this post. Or better yet, skip to the comments and tell the rest of us all your secrets!)
I have no problem picturing what that space has been for me – it's the first space to greet me every morning with its puppy dog eyes and drooping shoulders just begging for my attention.
It's my Closet.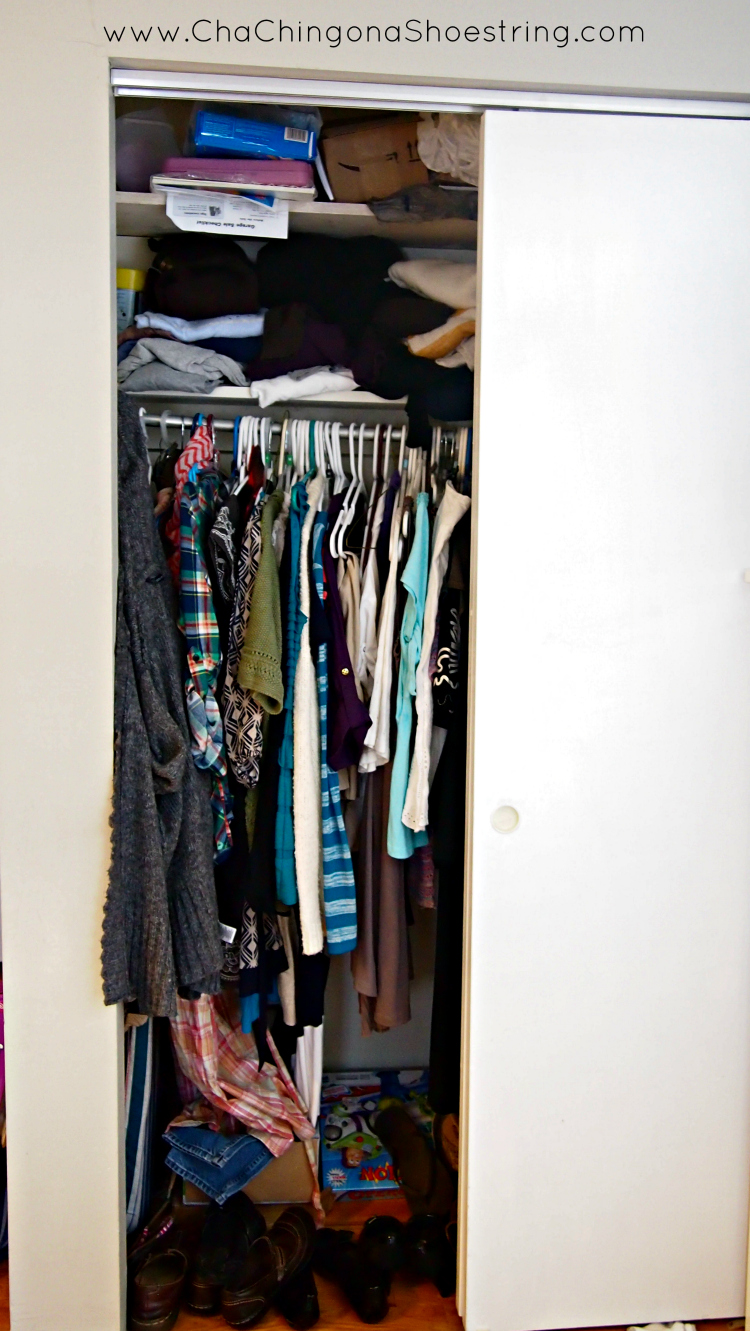 Ahem. Moving right along.
And every morning, I have averted my eyes, reached in blindly to grab any essential items and declared, "No, Closet – I have no time for you."
I would resist any urges to clean it out by imagining the long hours it would take to filter through the stash of clothes smooshed into my closet – some since last century. (Oh boy – did I just admit that out loud? Let's just say that some outfits have passed the Good Riddance test a few too many times. That pantsuit I wore for the Miss Liberty competition in college? It should be as distant a memory as the big hair I wore on that day, but I'm a sap, what can I say?)
Besides – my hair is still kind of big too. For whatever that is worth. 
Then the other day, inspiration struck – or maybe it was just that box that kept falling off my top shelf onto my head. Either way – after a heart to heart talk with my poor Closet, I came away with this detailed plan:
One Hour. 
That was it. That was my plan.
If you've been around here long, you know that I am highly motivated by deadlines. If there is a clock to beat, I will. Chalk it up to my competitive nature, or the fact that time is a very precious commodity to me during this busy season of life, but I work best when given very focused tasks in short periods of time.
In prep for my Closest Rescue, I made a trip to the Dollar Store (where else?) for some handy little baskets and bins since I've discovered that handy little baskets and bins are the solution to most organizational dilemmas in my life.
Then I found an hour time slot that would be relatively uninterrupted, grabbed a couple trash bags for donations and a trash can for trash and set out to make over my closet in one hour.
I armed myself with just one question:
"Have I worn this in the past year?"
That was it. I didn't let myself think about it. I had one goal in min:. To find the 2015 version of myself somewhere in that space.
Here's a rundown of my hour: 
About 15 minutes in: At first, I tried to collect all of the extra hangers in a bin.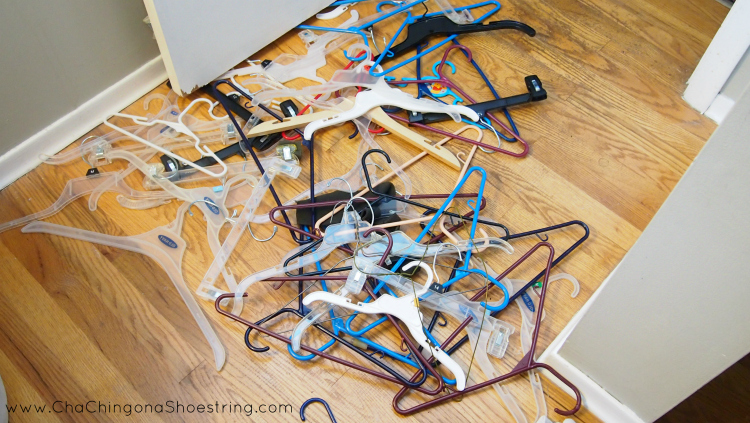 That didn't last long. The floor worked just fine.
I also lost some precious time trying to put my summer clothes in storage. I soon realized that the amount of space I was creating by getting rid of clothes was going to provide plenty of room for seasonal items. It was silly to have them take up storage space elsewhere.
About 30 minutes in: I had filled two hefty trash bags with pants, shirts, shoes and yes – pantsuits – to be donated to our local thrift shop. (I sure do hope that pantsuit goes to a good home.) Everything else that didn't pass the test was immediately thrown into my trash can.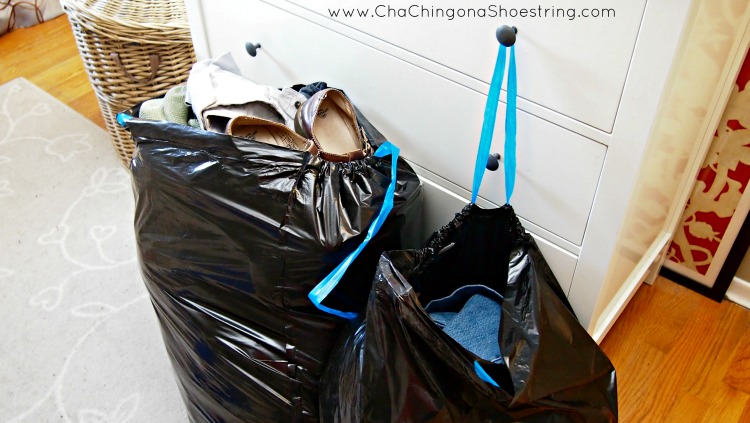 About 40 minutes in: I had selected the best hangers of the lot and organized the clothes that had made the cut.
I realize that some people like to organize their clothing by color. I opted to embrace my more practical self and organize my closet by type of clothing.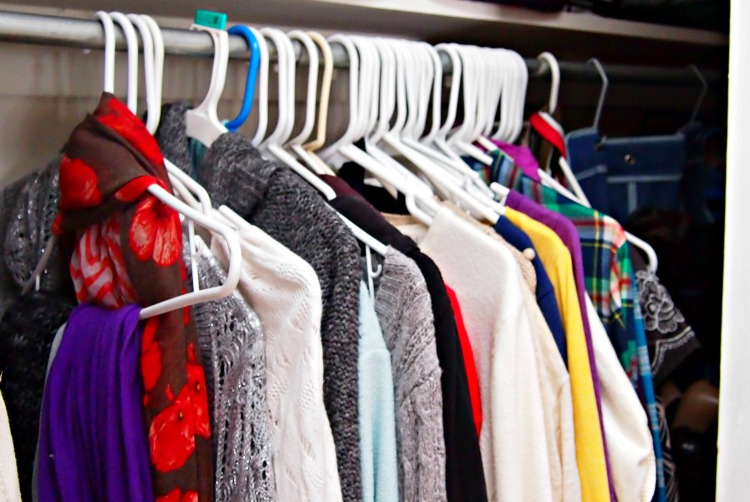 Besides – I'm not very good at organizing by colors – as noted by the Lone Blue Hanger that somehow missed my hanger cleanse.
About 45 minutes in: I put my Dollar Store bins to work for me.  Since my closet doubles as my gift closet, I used my handy little bins to create this system:

Yes – that last bin says "Socks". That's because "Happy Place where Long Lost Socks Will Magically Be Reunited with their Loved Ones" wouldn't fit.
Hey – a girl can dream, right?
About 55 minutes in: Turns out this Shoe Organizer  does a really great job of organizing shoes.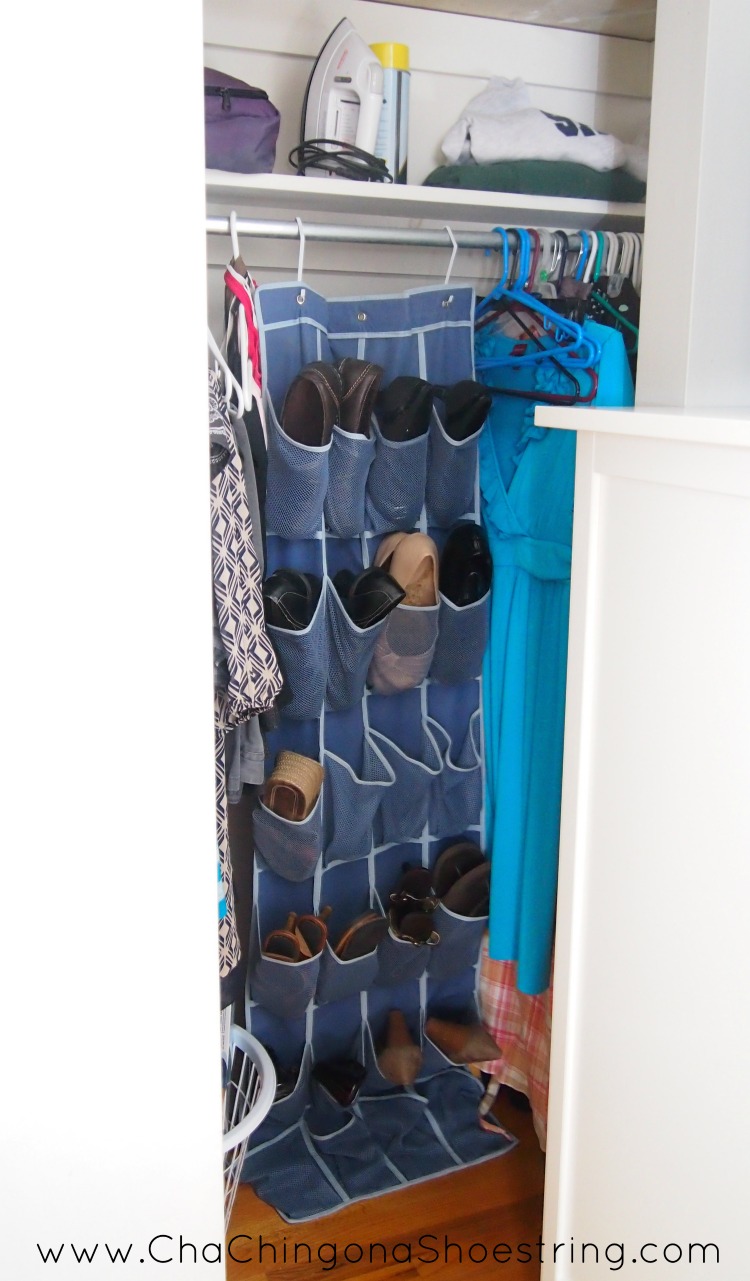 Who knew?
About 59 Minutes in: The laundry bin on the right is holding more Gift Closet items. The one on the left will hold future items that don't pass the 2015 Me test.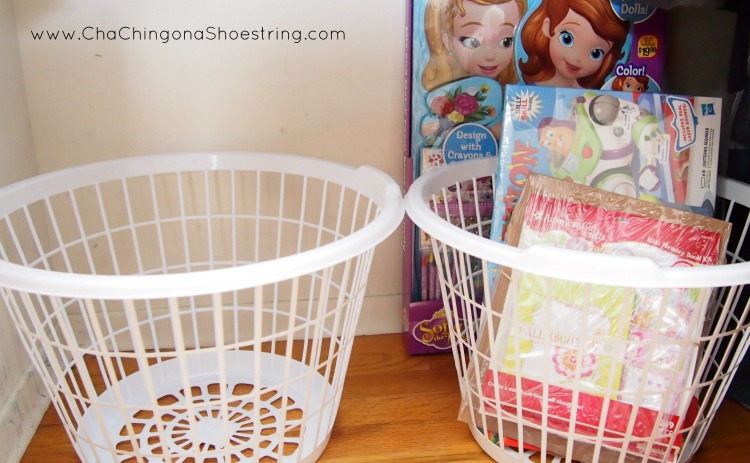 About 1 Hour in: I took a step back, wiped my sweaty brow, and soaked up the beauty of what felt like a brand new closet.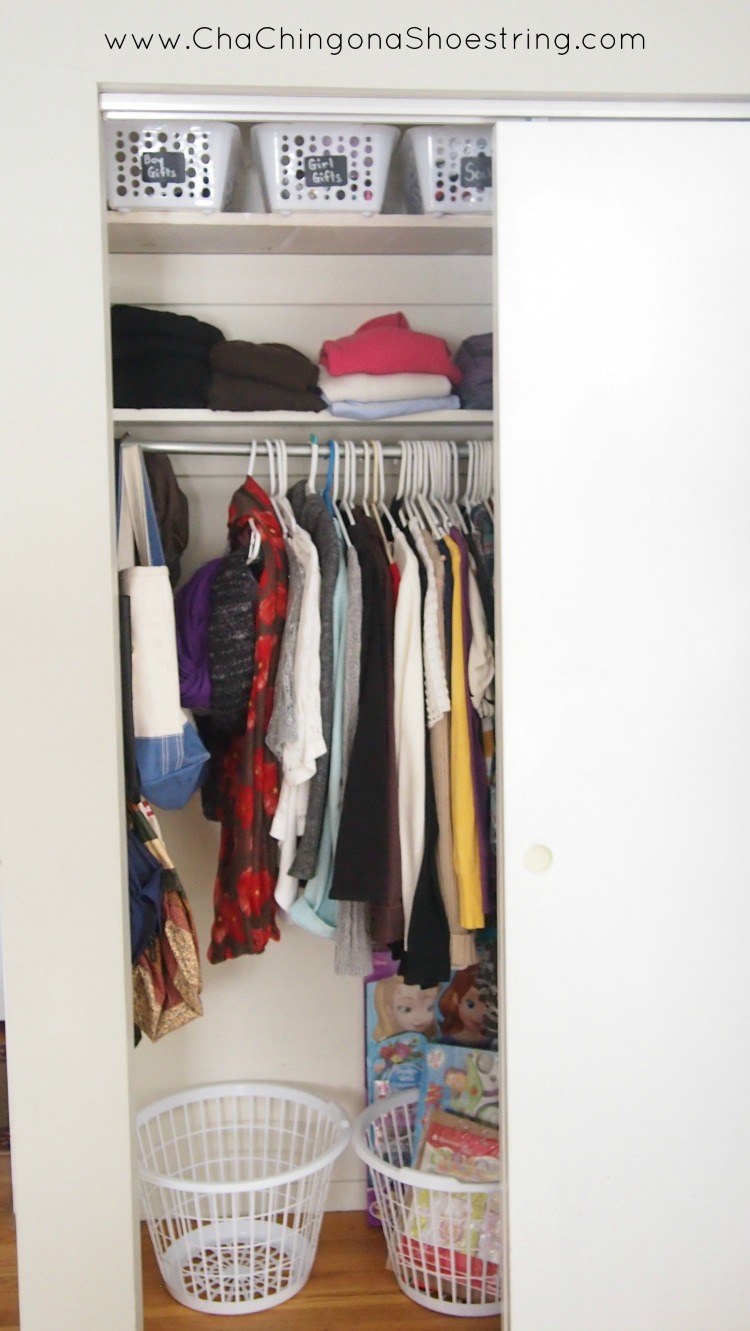 Honestly – I am in love. I wanted to just lay in my bed and stare at my new Happy Place. It is amazing what one hour can accomplish, isn't it?
A few tips if you are considering a Closet Rescue Power Hour: 
1) Know yourself. If you aren't as motivated by deadlines as I am, you might want to consider making it a 2 Hour Rescue instead. Don't stress yourself out if you know that you'll need a little bit more time to make decisions.
2) Be sure to assess the situation ahead of time to determine what types of bins and organizers you will need. Don't start your project until you have those items on hand.
3) If you think you might have a harder time parting with items than I did, then consider finding a place to store your donation bags for a couple months. This will give you some time to determine if you will miss any items and will give you the peace of mind that you need to purge your closet of any questionable items.
4) Be prepared. You might want to move into your closet when you are done.
How about you? Have you ever tried an Organizing Power Hour? What are your best tips?
You Might Also Like: