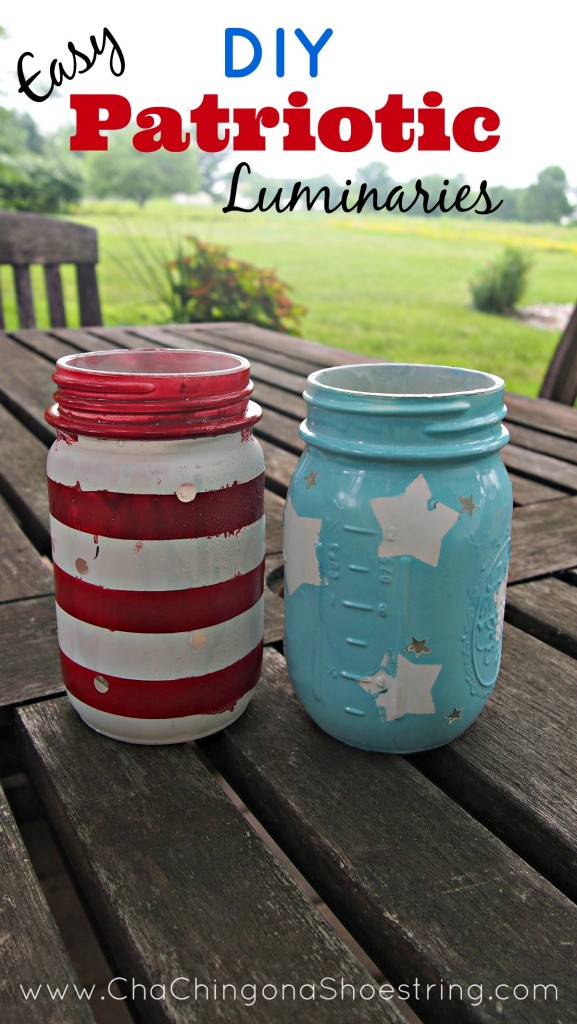 One of my monthly missions this month was to find simple patio decor ideas.
I happened upon these fun patriotic luminaries on Pinterest and thought to myself: "That looks like a simple patio decor idea!"
And indeed it was. What made it even simpler is that with a few little tweaks, I had every single supply already on hand. Score!
Here's how I made them in three easy steps:
Step 1:
I happened to have a nice supply of circle and star stickers from my scrapbooking days which worked perfectly to create a mask to peel off later in order to let light shine through. I then spray painted these with white for the first layer and let them dry.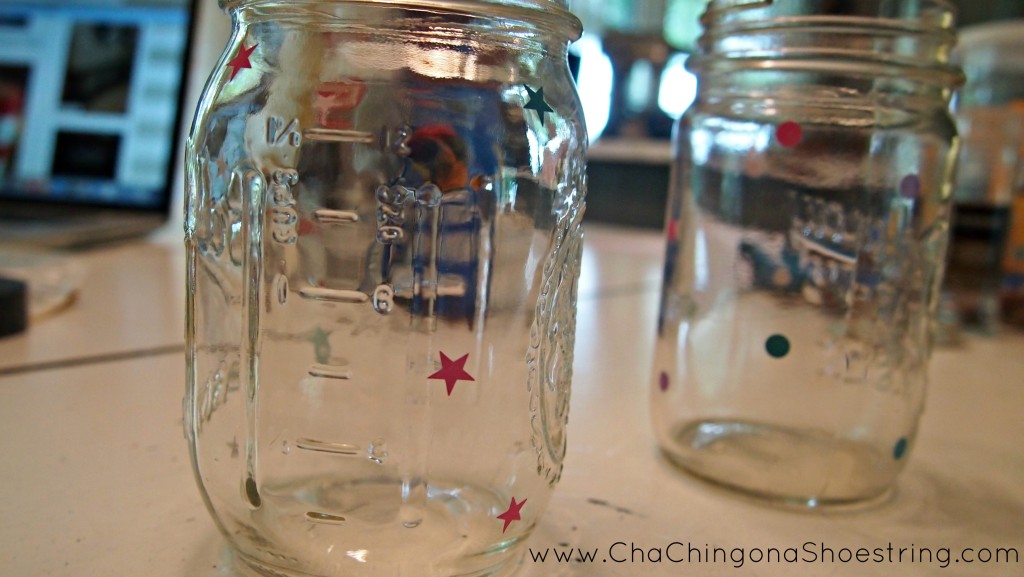 Step #2:
Once the first layer of spray paint had dried, I added the decorative touches. I didn't have larger star stickers, but I do own a star shaped paper cutter (yes – also from my scrapbooking days!). I used it to cut stars out of some painter's tape we had on hand. Then, to create the red and white flag-lined effect, I added four rows of electric tape to the second mason jar. Then I spray painted the starred jar blue and the lined jar with a red spray paint.
On a side note, if there is a way to spray paint jars without the paint dripping and looking uneven, I'm not sure what it is. For that reason, I do recommend using regular paint rather than spray paint if you have it on hand.
Actually, now that I'm thinking of it, I guess I could have just used a paint brush after I spray painted, huh? Thwack. (That was the sound of me smacking my head, in case you weren't aware.)
Well, there you go. Use a paint brush when you are done to avoid the dripping effect. You're welcome. 🙂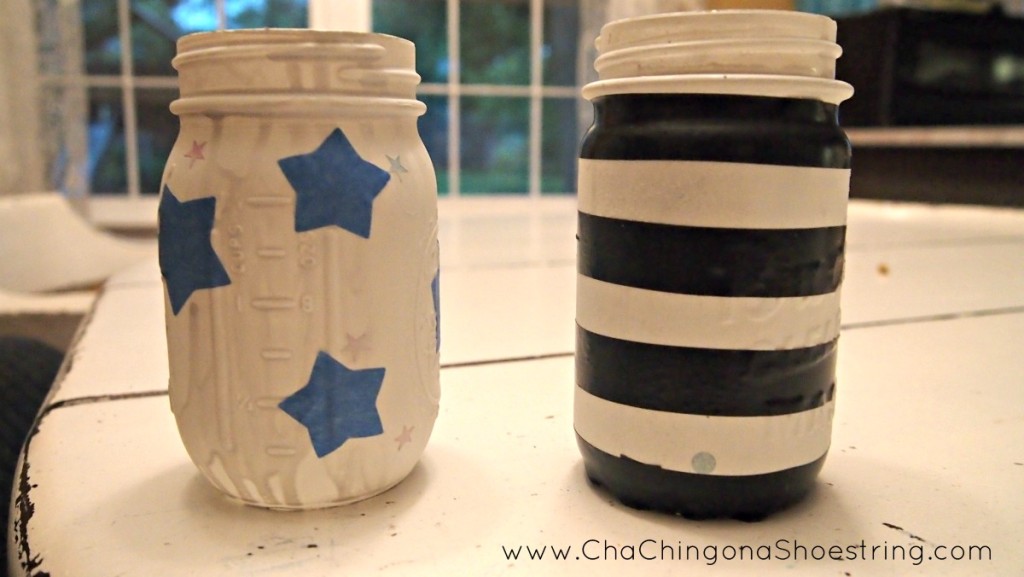 Step #3:
When the paint had dried, I peeled off all of the stickers and tape revealing the patterns and the holes for the lights to shine through.
There was some drippage and they didn't turn out perfectly, but I'm just going to declare them Shabby Chic – and pretend that was my plan all along.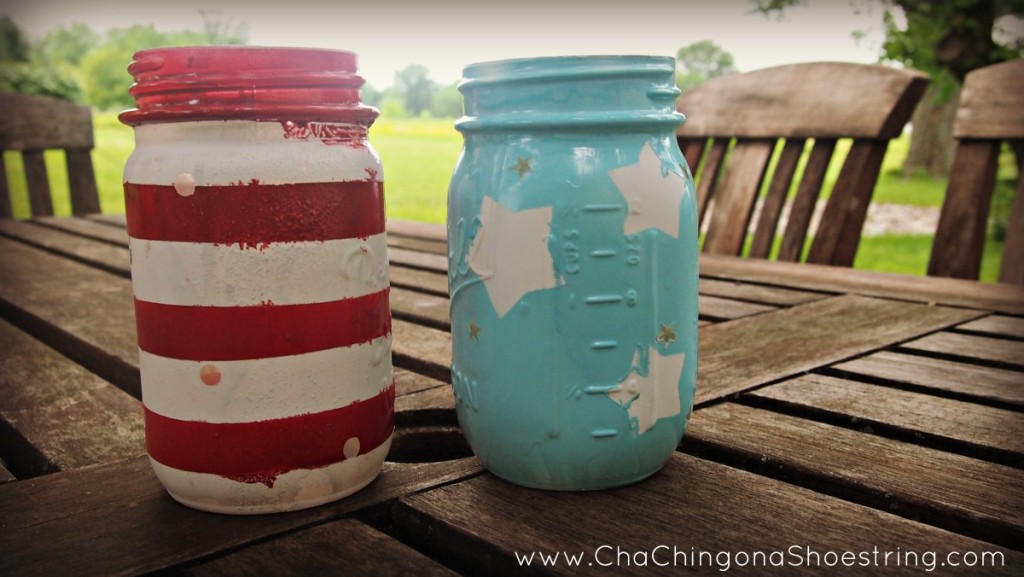 Easy peasy.
Then I just placed some tea lights in them and watched them glow. Optionally, you could use sandpaper once they dry for a distressed look.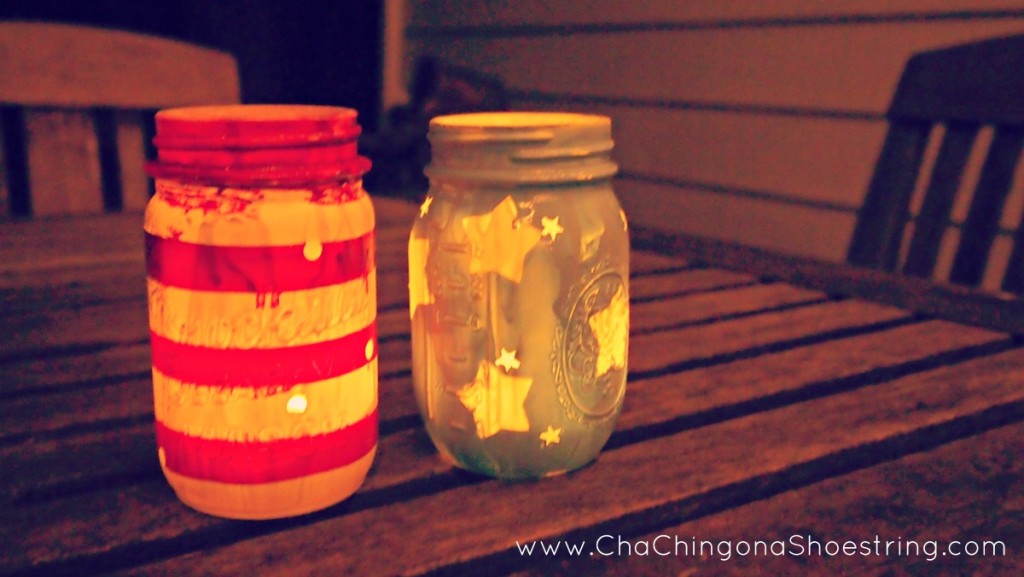 They were a fun addition to our first patio party of the summer!
Now, pardon me, while I go get ready for tonight's patio party – thankfully, festive luminaries are already checked off my list!
Thanks to Addicted to DIY for this fun idea!
You may also like: