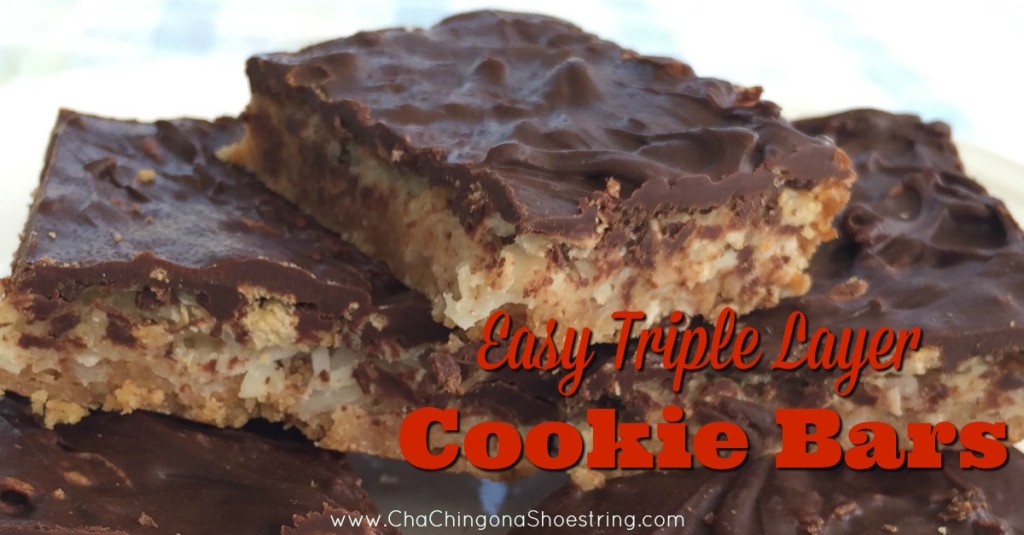 Easy Triple Layer Peanut Butter and Chocolate Cookie Bars
I'm happy to be sharing another post from my friend Elizabeth. She is a truly gifted hostess and is sharing one of her secrets to keeping things simple when it comes to dessert. I can't wait to give these a try!
When Kaley asked if I had any simple dessert recipes to share, I immediately thought of these deliciously easy Triple Layer Cookie Bars that I have made over and over through the years. My friend passed on the recipe after she brought them to a camping trip years ago and we all loved them!  They have come in handy so many times when I need a quick dessert or snack.
I love that, with only six ingredients, these cookie bars are so easy that I can even ask one of my older kids to make them for me.
My little kids love to help with this recipe too. The first layer is crushed graham crackers. I put the graham crackers in a ziploc bag and then the kids love to use a rolling pin to smash them into crumbs.
I always buy the ingredients at ALDI, which also makes this a dessert on the cheap.  At only $0.15 per serving, I can afford to whip these up any time!
This recipe makes about 3 dozen bars. Enjoy! 
Easy Triple Layer Cookie Bars
Ingredients
1 stick of butter ($0.63)
1 sleeve of Graham Crackers ($0.43), smashed into crumbs (see above for method I use)
7 oz flaked coconut ($0.65)
1 can of sweetened condensed milk ($1.39)
11 oz bag of milk chocolate or semi sweet chocolate chips ($1.79)
1/2 cup of peanut butter ($0.37)
(Total Cost $5.26 or $0.15 per serving)
Instructions
Preheat oven to 350. Place stick of butter in a 9 x 13 pan and place in the oven to melt. When the butter is melted, stir in the crushed graham crackers. Pat down with a spoon or your hands to make an even layer.
Sprinkle coconut evenly on top of graham crackers. Drizzle sweetened condensed milk over the coconut in an even layer. Bake in oven for about 20 minutes or until lightly browned.
Meanwhile, stir chocolate chips and peanut butter in a saucepan to melt.
Remove bars from oven and pour melted chocolate mixture evenly over the top while the bars are still warm.
Allow to cool in the refrigerator. Cut into bars and serve.
https://chachingonashoestring.com/2016/03/16/incredibly-easy-and-delicious-triple-layer-peanut-butter-and-chocolate-cookie-bars/