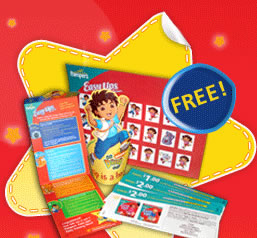 Those glorious potty training days will be back before we know it with our second born, so I went ahead and signed up for this offer from Pampers.
Go here to request your free Potty Training Kit from Pampers which includes:
A free sample of Easy Ups Trainers
High-value coupons
Fun stickers and coloring pages
Step-by-step potty training tips
Potty Progress Chart
Dora or Diego Training Trophy (Lincoln can add it to his sports trophies collection when he gets older!)
Want more potty training help?  Read my previous post about it here.
Thanks, MoJo Savings!