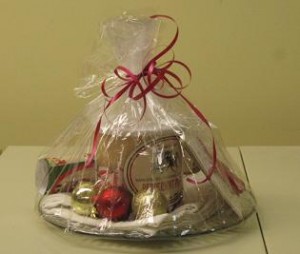 Here's another installment from The Dollar Store Diva!
When my sister and her husband came for Thanksgiving dinner, Sharon presented me with a hostess gift. It was all pretty and festive–we oohed and aahed about it. (See picture.) She admitted that everything in the package was from the Dollar Store. "The Dollar Store!" we gasped. "Everything?" "Yes, everything."
A can of my favorite puffy mints, a lovely white towel, some Thank You note cards, and Christmas gift tags. She even threw in a couple of colorful Christmas balls for some extra festivity. All set on a pretty glass plate, wrapped in clear plastic wrap, and tied with a bow.
I was reminded of the obvious that day: a gift does not need to be expensive to bring pleasure. And I knew that there were endless opportunities at the Dollar Store for me to bless others during this season of giving. I will be sharing some of those gift ideas in the days to come.