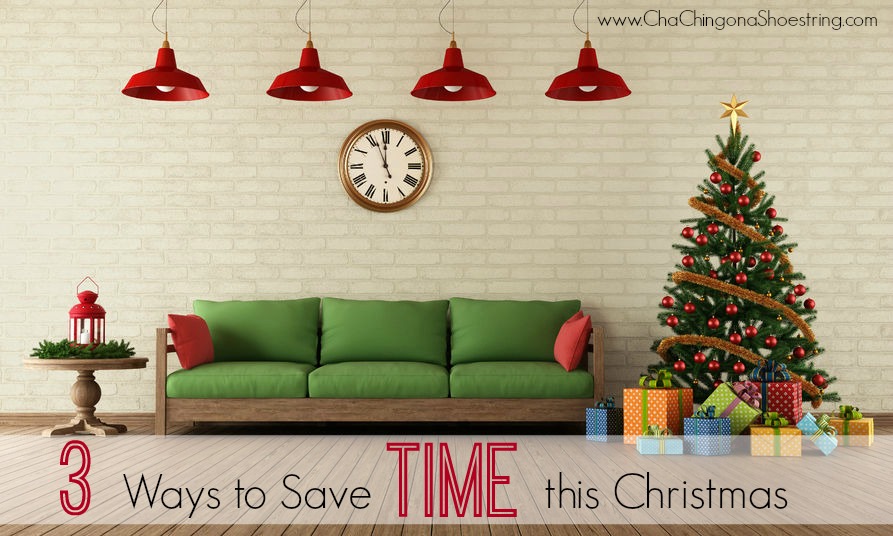 Want to transform your Christmas with us? My Book The Merry Little Christmas Project – Five Words that will Transform your Christmas has helped thousands of women do just that. If you have ever wished that Christmas didn't have to be so stressful, I wrote this book for you. Click here to learn more and begin simplifying and organizing your Christmas with me!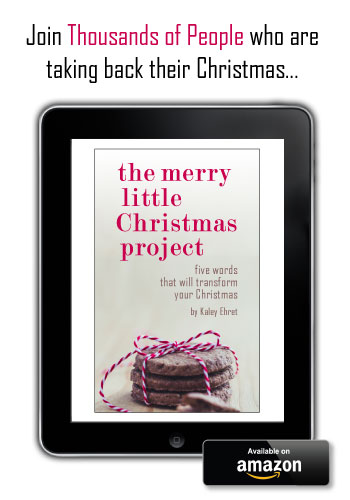 3 Ways to Save Time this Christmas
For the longest time I've wondered how Santa does it.  How on earth does he fit all. those. toys. in that one little red sack?
Then lately, I've realized that I am a lot like Santa (minus the beard, of course).  But it's not toys that I'm trying to stuff into a sack.
It's all. those. activities. that I plan to cram into my one little 24 hour day over the next month or so.
You know: the cookie-baking-and-decorating-and-Christmas-movie-watching-and-advent-traditions-and-Christmas-card-making-and–fa-la-la-la-ling of the upcoming Christmas season.
Not to mention those other frivolities like cooking and cleaning.
Here's the thing though – I really do want to squeeze every ounce of Christmas out of Christmas.  I just can't help myself.
But something has to give.
Because my time is not nearly as magical as Santa's little red sack.
So here are three ways that I plan to save TIME this Christmas – and make room for all the FUN of this wonderful time of year.
1.  Pillowcases.
Yes, Pillowcases.
This one is a secret that my Mom passed down to me and I am forever grateful.  You see, although my Mom loves to wrap gifts creatively, there is only so much one woman with six kids can do.
So my Mom used pillowcases to wrap our gifts.
She also sewed lovely gift bags and I managed to steal acquire a few of them through the years.
So wrapping is not only easy around here, but also happens to be very earth-friendly! (If you are looking for more inspiration on time-saving tips for wrapping, check out my Christmas Wrapping Station makeover from last year. It was the best $12 I spent all Christmas and a HUGE time-saver.)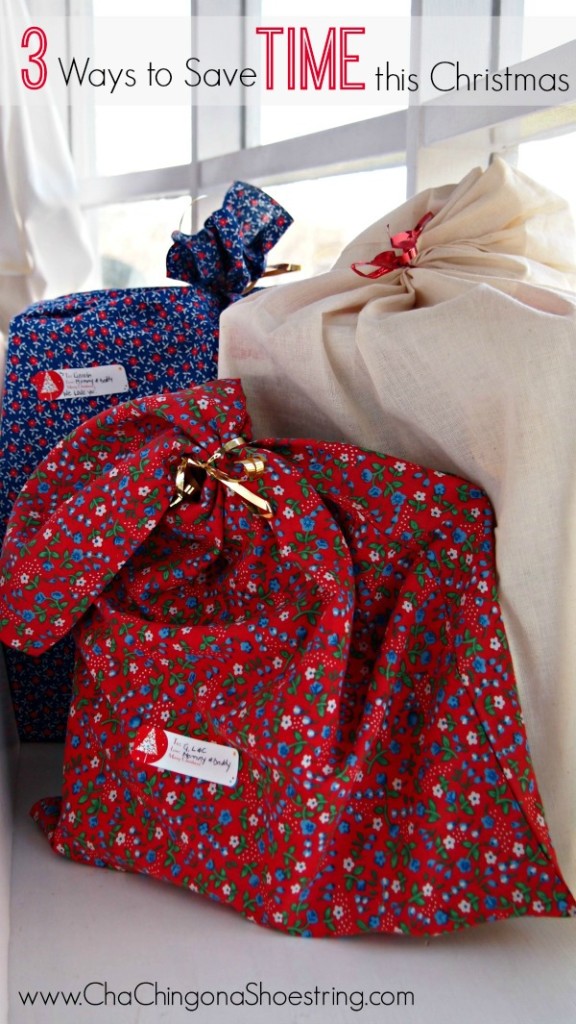 Estimated Time Saved: 5 – 10 hours
Disclaimer: I still like wrapping paper and sometimes a present calls to be wrapped in it.  So I do.
2.  Stop Meal Planning
No, I'm not suggesting living off of frozen pizzas, boxed Macaroni & Cheese and cold cereal for dinner.  (Although I'm not opposed to the occasional bowl of Frosted Mini Wheats for dinner!)
But I am suggesting that quitting meal planning will save you TIME.  So why not try eMeals?  It's like paying a maid about $5 per month to plan your meals and shopping list for you.  Plus they are now offering a FREE two week trial
p.s. Yes…that is my affiliate link, so I'll get a small commission if you decide to sign up.  I've been using eMeals faithfully for about 5 years now, so I'd recommend them even if you don't sign up through my link!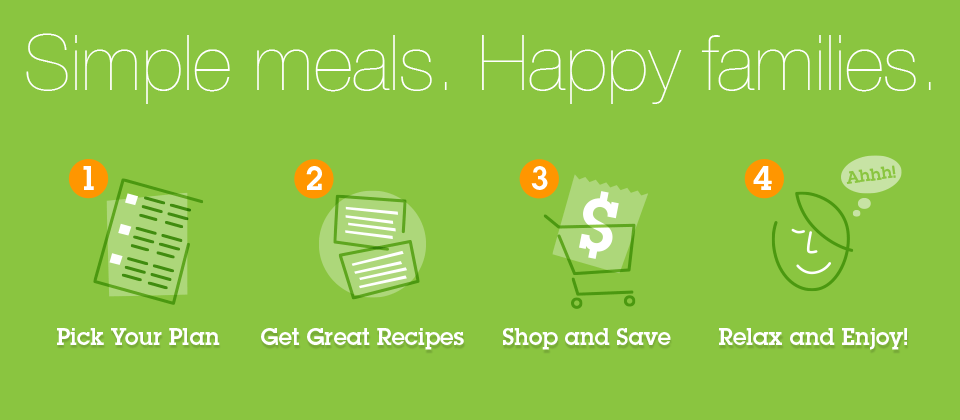 Estimated Time Saved: 2 hours per week
3. Eliminate Christmas Card chaos. 
As a reminder, I am a BIG fan of Christmas traditions.  So, yes…I still write Christmas cards.  But last year, I realized that for the cost of a stamp, I could have my cards mailed for me.  No addressing, licking, or stamping envelopes involved.
I used Cardstore.com last year, which means I now have my mailing addresses all entered and ready to go.  And I used the newsletter-style card, so I still felt like I was sending something with a personal touch:
Fun, right?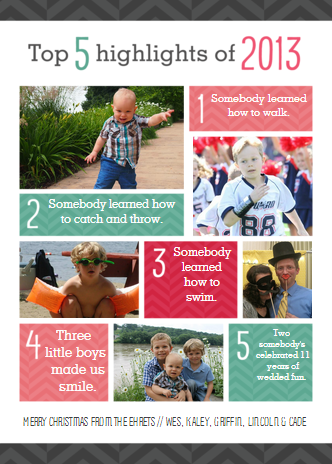 Plus this style means you don't need to have any fancy family portraits taken. Just grab some pics of highlights from the year – even more time saved!
Estimated time saved: 3 hours
There you have it.  Three ways I plan to save TIME this Christmas.  How about you?  What are your best tips for squeezing all those magical Christmas memories into your day?
Check out more Merry Little Christmas Project posts.