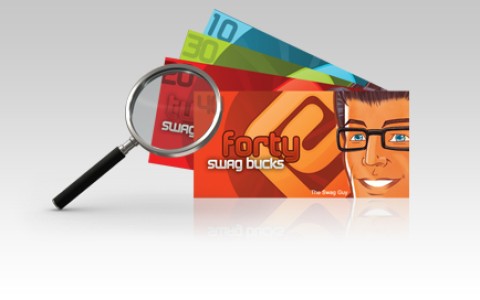 Swagbucks Sign Up Code January 2023 plus 500 Bonus Swagbucks!
Update: Click here to find out how you can earn 300 bonus Swagbucks this month PLUS use my exclusive code CHA-CHING to score 70 FREE SB just by signing up for my FAVORITE rewards site!
The offer below has ended.
I LOVE Swagbucks, so I am thrilled to offer new members a Swagbucks 70 point sign up code plus 500 BONUS Swagbucks for a limited time.   That's enough to earn over $5 in gift cards!  Here's how:
Anyone who signs up for Swagbucks.com through my link here between now and April 5, 2014 is eligible to get a 500 SB bonus – enough for a $5 gift card at places like Amazon, Starbucks and more! In order to get the bonus automatically, you must also earn 1500 SB before April 19, 2014. Note that since this is an exclusive offer, you must sign up through this link and earn 1500 SB in order to get your 500 SB bonus. If you sign up elsewhere, or only do one of the two steps, the bonus won't work. 🙁
Even better, use my exclusive Swagbucks sign up code CHA-CHING to start off with 100 FREE swag bucks!  Here's how:
Enter your email and choose a password.
Look for the text, "I have a sign up code." and enter CHA-CHING to earn 70 SB immediately upon sign up.
Then complete your profile to earn an additional 30!
Please note: Swag Codes like the one above will not count  toward your 1500 SB goal, but they will still help you earn more gift cards!
Then earn the rest of your 1500 SB goal through Search, Watching Videos, Playing Games, Taking Surveys, Shopping and more – as you do these activities, you'll earn Swag Bucks that you can redeem for all sorts of gift cards in the Rewards Store.
I've used Swagbucks for over four years now and have earned hundreds of dollars in FREE gift cards.  You can do the same!
To sign up for Swagbucks, click this link and use my exclusive code CHA-CHING to start off with 100 FREE swag bucks
After you sign up, click below to find out how I use sites like Swagbucks to earn extra cash in just 20 minutes per day!