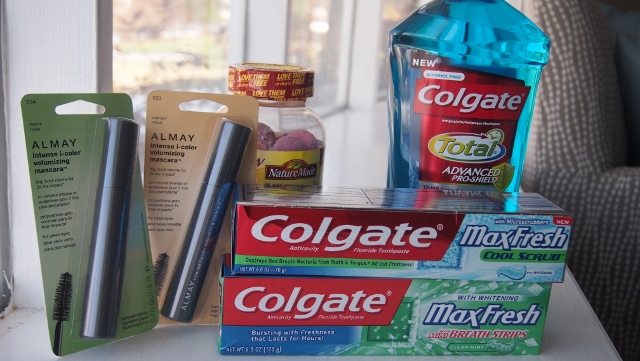 I was reminded of a very important lesson I've learned in the world of couponing today at CVS.
Make sure all of your coupons get scanned.  If you can catch it before you cash out, that's best.  If not, just be sure to check your receipts before heading out the door.
I've learned that lesson many times – often the hard way.
Today the stars aligned and my little guy wasn't stealing candy from the checkout aisle or trying to escape from the cart and I actually was able to pay close enough attention to realize that one of my $3 ECB's didn't scan.  I mentioned it before I cashed out and the cashier fixed it in a jiffy.  She was my hero. 🙂
I will also say that while I'm happy with the outcome of the trip, I was missing a couple of coupons that would have made it even better.  But I decided to count my losses and call it a day since another trip to CVS just wasn't in the plans for the week.
So here is how I got everything in the picture for just $4.98 (reg. $48.63):
Transaction #1:
Buy (2) Colgate Max Fresh Toothpaste, $2.99 ea. – Get $2 ECB's
Buy (1) Colgate Total Mouthwash – $5.99 – Get $3 ECB's
Use $1/1 Colgate coupon from SS 3/9 (only brought 1)
Use $2 off $10 Toothpaste, Rinse CVS coupon from printer last week
Use $7.25 in ECB's from last week
Pay $1.82 after coupons and tax*
*I had a 20% off coupon on my card from an email from CVS as well.  It wasn't supposed to come off since everything was on sale, but it did. 
Transaction #2:
Buy (2) Almay Mascara – $5.99 ea. – Get $6 ECB's
Buy (1) Naturemade Calcium Gummies – $5.99 – Get $4 ECB's
Use $5/2 Almay printable
Use $3/1 NatureMade coupon from SS 3/9
Use $2/1 Vitamin purchase CVS coupon from last week
Use $5 in ECB's from last transaction
Pay $3.16 after coupons and tax
And now I have $10 in ECB's for next week. 🙂
How about you did you score any great deals this week?
Want to learn more about my 20 Minute Couponing System?  Click here. 
Click here to check out the rest of the CVS deals this week.