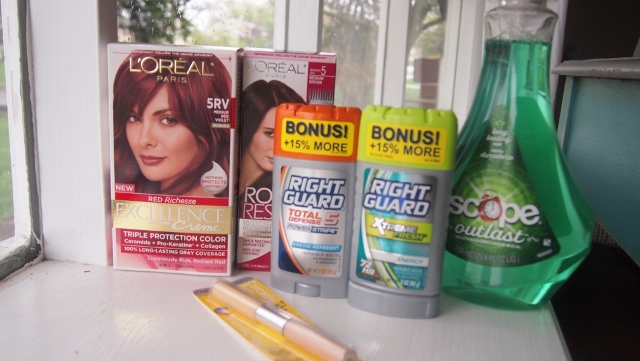 I took the week off from couponing after my frustrating shopping trip two weeks ago. I finally decided it was time to give it another go for just a couple of things.
I scored some great coupons from the Magic Coupon Printer, however, and decided to make another trip over there today.
I am officially a CVS fan once again! Most of my experiences there are GREAT, so I'm not going to let one frustrating experience drown out all the amazing trips I've had.
Here are my shopping transactions this week:
CVS Shopping Trip Week of 4/27/14:
Day 1 Transaction:
Buy (2) Right Guard Deodorants, $3 ea. – Get $2 ECBS's
Buy (1) Scope Outlast Rinse, $2.49
Use (2) $1.50/1 Right Guard coupons from RP 4/27
Use $2 in ECB's from last week
Pay $3.70 after coupons and ECB's
Submit for $2.49 Scope Outlast rebate (ends today)
$1.21 after rebate!
Day 2 Transaction:
Buy Physician's Formula Concealer, $8.79 – Get $2 ECB's
Buy L'Oreal Paris Hair Color Root Touch Up, $6.99
Buy L'Oreal Paris Hair Color, $8.99 – Get $4 ECB's wyb 2
Use $7/1 Physician's Formula CVS coupon from coupon printer
Use (2) $3/1 L'Oreal Hair Color coupons
Use $3 off $12 L'Oreal Hair Color CVS coupon from coupon printer
Use $9.45 in ECB's
FREE after coupons and ECB's!
Plus I fulfilled my $30 L'Oreal purchase for the the $5 SavingStar rebate, so this will be a $5 moneymaker!
So, after all that, I got paid $1.30 for $39.55 worth of products.  Plus I have $6 in ECB's for my next trip!
Click here to check out the rest of the CVS deals this week.
How about you?  Did you score any awesome deals this week?
Want to learn more about my 20 Minute Couponing System? Click here.