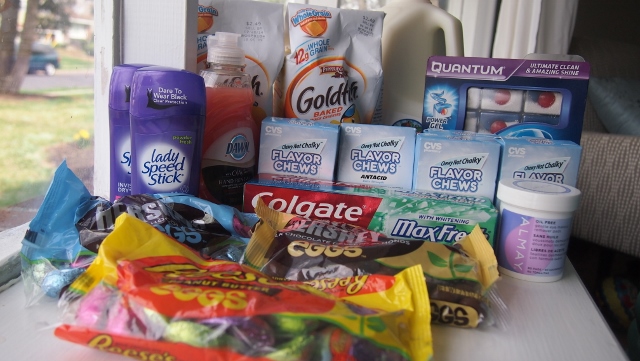 Oh boy.  My head is still spinning after this CVS trip.  It seems that everything that could possibly go wrong did.  I think my cashier became distracted as a line suddenly formed behind me.  Although I had everything completely organized, it seems the whole situation flustered him.
Here's a rundown of the hot mess that took place:
1)  I noticed that $3 in my ECB's did not come off my total at first.  I pointed this out and the cashier fixed it.
2) My ECB's for my Hershey's eggs did not print.  I pointed this out and was given $2.
3) The $2.50 off coupon for Colgate did not come off.  I noticed once I got to the car and gathered the kids back up, headed back in and was given $2.50 back in cash.
4) As I'm writing this post, I realized that the $1.99 in ECB's from transaction #1 that I used to pay transaction #2 did not come off my  total as well.
5) I also just realized that a $1 off $4 coupon for deodorant did not come off my total.
I think I may just move on.  As frustrating as it is to lose out on some savings, I'm not sure it's worth a trip back to CVS.
Lessons from this trip:
Pay close attention.  Sometime this is difficult when little ones are in tow, but a scan of receipts before you head to the car is always a good idea.
As vigilant as we may be about paying attention, sometimes we miss stuff.  We can become completely discouraged or just go back next week and score an even more awesome deal. That's my strategy, anyway!
If possible, I'm going to find another cashier next time. 🙂
CVS Week of 4/13/14:
Transaction #1:
Buy (2) Pepperidge Farm Goldfish, $1.67
Buy (3) Hershey's Eggs, $3 ea. – Get $2 in ECB's
Buy Finish Quantum, 10 ct, $3.99*
Buy Almay Makeup Remover, $5.99 – Get $1.99 ECB's
Buy Colgate MaxFresh Toothpaste, $3
Buy Gallon of Milk, $4 (we were out of milk!)
Use $4/1 Almay coupon from SS 4/13
Use $1.00/2 Hershey's Eggs Easter Bags, 7.1 – 11 oz (CVS Coupon) (exp 04/20/14)
Use $2.00/3 Hershey's Kisses, Reese's, Hershey's Miniatures, Hershey's Eggs, Cadbury or Whoppers Bags from SS 4-6
Use $2.50/1 Colgate CVS coupon from Coupon Printer
Use $0.75/1 Finish Automatic Dishwasher Detergent
Use $18.98 in ECB's
$0.09 after coupons and ECB's!
**True confessions: This is not an awesome deal.  But remember that Finish rebate I took advantage of a while back?  Ahem…I threw out the UPC code. 🙁  I'm heading to get cut the UPC code off as soon as this post is finished and sending it out in tomorrow's mail!
Transaction #2:
Buy (2) Lady Speedstick, $2.50 ea. – Get $2 in ECB's
Buy (5) CVS Peppermint Antacid Flavor Chews, $1.49 ea. – Get $7.45 in ECB's
Buy Dawn Dish Soap, $0.99
Use $0.50/1 Dawn Hand Renewal coupon (Zip Code 75034)
$13.27 after coupon and ECB's!

So, after all that, I still managed to score $53.33 worth of products for $15.92.  Plus I have $11.45 in ECB's for my next trip!
Click here to check out the rest of the CVS deals this week.
How about you?  Did you score any awesome deals this week?
Want to learn more about my 20 Minute Couponing System? Click here.