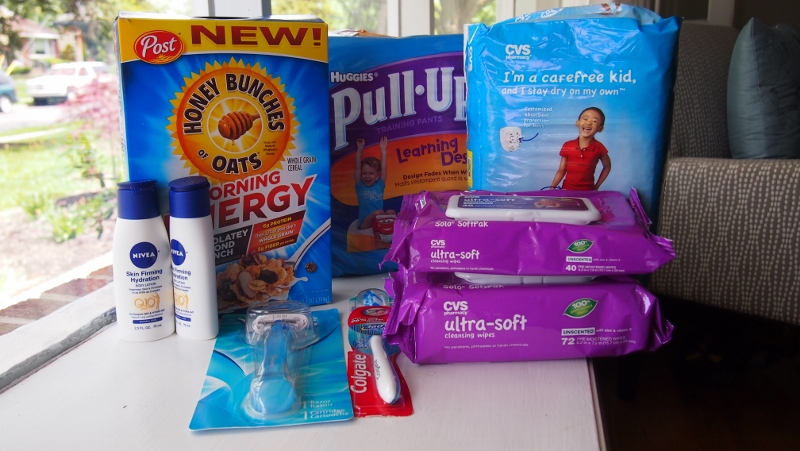 I made it to CVS yesterday and am finally getting a chance to share my shopping haul.
Before I share my transactions, I wanted to give you a heads up that a high value $2/1 Right Guard or Dry Idea Deodorant coupon printed for me at the coupon printer.
I didn't have the $2/1 Speedstick coupon with me, but if you receive that coupon you can score a moneymaker this week. Here's how:
CVS through 5/17:
Speed Stick Gear Antiperspirant/Deodorant, 2.7-4 oz, $3.99
Get $1 ECB's wyb 1 (Limit 1)
Use $2/1 Speed Stick Gear Body Spray or Antiperspirant/Deodorant from SS 4/27
Plus use $2.00/1 Gear Deodorant from CVS Coupon Printer
$1 Moneymaker after coupons and ECB's!
(By the way, has anyone noticed that CVS is getting really generous with their coupon printer? I've found some awesome coupons in my long train of coupons that flows out of the printer each week.)
Now here are my transactions this week:
Transaction #1: 
Buy (2) Nivea Skin Firming Body Lotions (2.5 oz), $2.99
Use (2) $2/1 coupons from RP 5/11
Use $2 in ECB's
Pay $0; Receive $5 in ECB's!
If you are just starting, I recommend simply taking advantage of transaction #1 this week. It's a great way to get ECB's for less. (Note: If you can't find the 2.5 oz bottles in stock, be sure to ask for a rain check!)
Transaction #2: 
Buy Huggies Pullups (38 ct), $18.99
Buy CVS Baby Wipes (40 ct), $2.29
Buy CVS Baby Wipes (72 ct), $2.99
Buy CVS Training Pants (19 ct), $10.99 – Get $4 in ECB's
Buy Gillette Venus Razor, $7.79 – Get $5 in ECB's
Buy Colgate 360 Manual Toothbrush, $3.49 – Get $2.50 in ECB's
Buy Honey Bunches of Oats Morning Energy, $1.99
Use $3 off $10 CVS Brand Baby Purchase*
Use $1 off CVS Wipes*
Use $5 off $35 Baby Purchase CVS coupon*
Use $3/1 Huggies Pullups coupon
Use $1/1 Colgate toothbrush coupon from SS 4/27
Use 30% off coupon from email – $6.90 discounted
Use $1/1 Honey Bunches of Oats coupon from March ALL YOU
Use $9 in ECB's
Pay $20.79 after coupons and ECB's!
So, after all that, I paid $20.79 for $43.58 worth of products.  Plus I have $11.50 in ECB's for my next trip. Not my best shopping trip ever, but I was able to score some much needed baby items for over 50% off, so I'll take it!
Click here to check out the rest of the CVS deals this week.
How about you?  Did you score any awesome deals this week?
Want to learn more about my 20 Minute Couponing System? Click here.