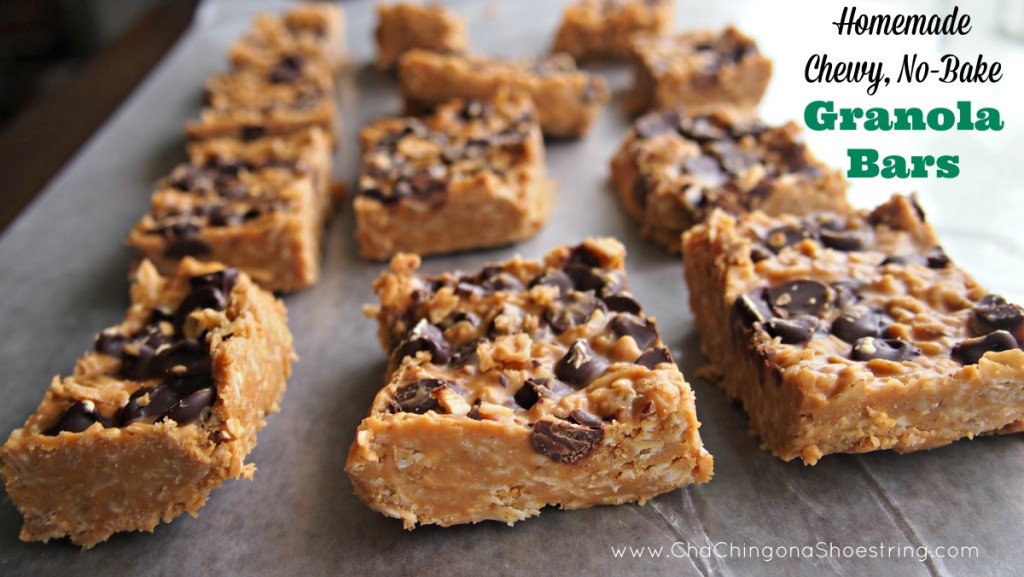 This post is about two things:
1) A recent freezer baking session which resulted in some grab & go snacks for my kids' lunches – including the delicious Chewy, No-Bake Granola Bars pictured above.
2) Secondly – and possibly more importantly – the brilliance of including friends in such endeavors.
Meet my friend Elizabeth: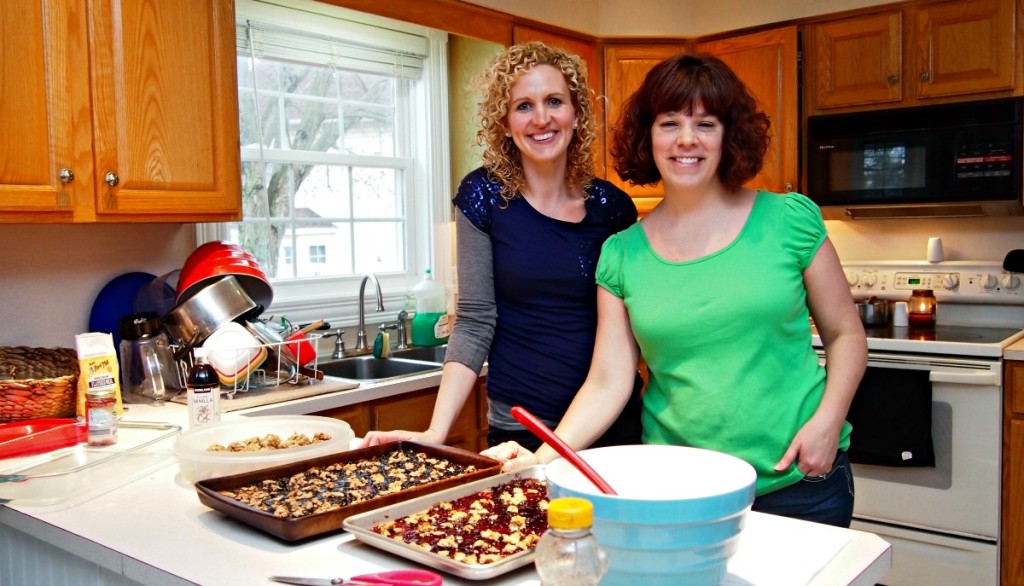 A while back, Elizabeth mentioned to me that she was planning to attempt a freezer baking session in order to stock her freezer with some healthy, unprocessed snacks for her kids' lunches.
I very timidly and sweetly begged asked nicely, "CAN I COME??" She graciously responded with a yes, we set a date, she sent me her Pinterest board of ideas, we collaborated on ingredients needed, and several emails later, the plans were all in place.
In full disclosure, the day that I headed to her house to bake was a busy one, and I arrived feeling weary and unsure whether I had what it takes to be a good Freezer Baker (whatever that means).
From the second I walked into Elizabeth's door, I felt the tensions of the day begin to ease. Soon, our freezer baking session turned into an afternoon with a friend – and some baking happened to take place in the process.
That's what I call multi-tasking at its finest.
Two hours later, I walked out the door with four snacks and breakfast items to stock my freezer, and a refreshed heart.
Here's what we accomplished in our time together:
-Chewy, No-Bake Granola Bars (recipe below)
–Homemade Instant Oatmeal "packets"
Now onto the main event – the recipe you've all been waiting for!
Homemade, Chewy, No-Bake Granola Bars
Elizabeth introduced me to this delightful recipe. It couldn't be much easier to make and these taste approximately 12,000 times better than your average store-bought granola bar. Plus they are so filling! I cut mine up and placed them in baggies in the freezer so they are easy to just grab and throw in my mouth son's lunch (ahem). They taste delicious frozen too (ask me how I know).
I used peanut butter, but you could switch out for another nut butter if there are allergy issues or your child is in a peanut-free classroom.
Here is the recipe (adapted from Five Heart Home):
Ingredients:
1 cup peanut butter (or your favorite nut butter)
1/2 cup honey
1/2 cup coconut oil
2 1/2 cups rolled oats
1 cup shredded coconut
1/4 cup chocolate chips (or mini chocolate chips)
Directions:
In a medium pot, melt together nut butter, honey, and coconut oil over medium-low heat, stirring until smooth. Remove from stove and stir in oats and coconut.
Pour mixture into a 9- by 13-inch baking dish. Spread into an even layer, sprinkle with chocolate chips, and firmly press down with the back of a spatula.
Refrigerate for 2 hours or until firm, then slice into squares or bars and remove from pan.
Store granola bars in the refrigerator or freezer, individually wrapped in baggies. Or if you don't plan to pack them in lunches, you can simply store them in an airtight container (I use this one) with wax paper separating the layers.
Easy peasy and delicious! My favorite kind of recipe.
Stay tuned for the rest of the recipes soon.