Welcome to the weekly Cha-Ching Challenge!
Did you find a HOT deal this week that you just want to share?  You've come to the right place!   Add a link to your post detailing your savings for the week OR your favorite deal of the week. I may even choose one participating blog to highlight next week right here on Cha-Ching on a Shoestring!
Check out my savings for the week below:
I made it through the week without doing any real grocery shopping.  And boy was I grateful that I did when we woke up this morning to a broken refrigerator (for the second time in a few months).  Thankfully, our fridge was empty enough that we could fit everything in a cooler and our chest freezer (another reason I'm glad we invested in a chest freezer years ago!)
One other reason I'm grateful this morning?  We purchased the extended warranty on our fridge when we bought it less than a year and a half ago.
Savings from coupons and store sales: $4.66
Spent $13.72 at Landis.  Saved $4.66.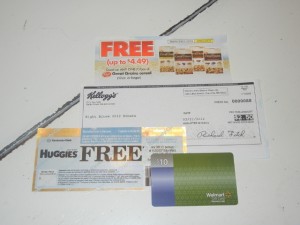 Savings from 'Free Money': $5.19
I got some fun freebies in the mail this week:
a check for $2.50 from Kellogg's from a Try Me Free rebate on Keebler Right Bites.
a $10 Walmart gift card that I redeemed from Recyclebank.*
a coupon for a FREE box of Huggies Wipes that I redeemed with some Huggies Rewards points.*
a coupon for a FREE box of Post Great Grains cereal that was offered on their Facebook page a while back.*
*I'll add these to my savings when I redeem them.
I also got a FREE Dunkin Donuts Iced Coffee this week (it's a local promotion).
Savings from planning ahead: about $500

I am very thankful that we decided to take advantage of the extended warranty when we bought our fridge about a year and a half ago.  Little did we know how much money it would save us in the long run.
TOTAL SAVINGS:$509.85
TOTAL SAVINGS THIS YEAR: $1448.03
Click below to check out my favorite find of the week:

——————————————–
HOW DID YOU DO? Did you find any great deals? Leave a linky and let us know!  Be sure to link directly to your weekly savings or great deal post.
Feel free to copy and paste the button above into your post and link back here so that others can join in the fun!