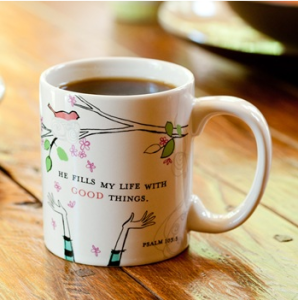 Dayspring has an awesome clearance sale going on right now. You can get so many adorable items for less than $5-$10: coffee mugs, tea sets, home decor items, plates, bookmarks, memo pads, journals, photo frames, and more!
Head over here and click on "clearance" on the left side of the page. You'll be able to browse through all the discounted items. I love Dayspring coffee mugs. They're so cute and offer a little bit of inspiration each morning. 🙂
Get FREE shipping on orders over $50. You can use coupon code 20OFF70 to get $20 off a $70 order (if you decide to opt for the $50 worth for the free shipping). This is a great opportunity to pick up several cheap Christmas gifts.