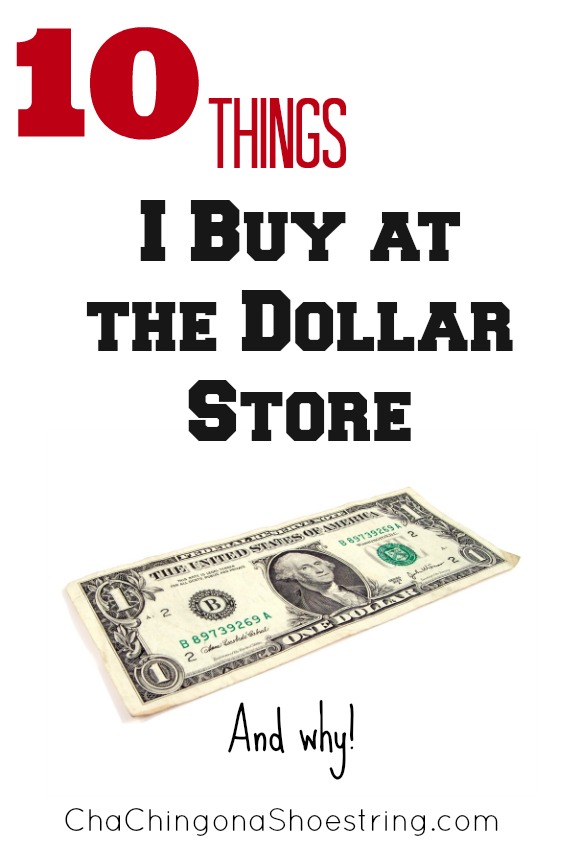 What are the Best Things to Buy at the Dollar Store?
If you've been around for long, you likely know that I love the Dollar Store.  I've shopped the Dollar Store for my Office Makeover, my One Hour Organization Challenge, my boys' LEGO Birthday Party, and my Christmas Wrapping Station.
But not everything is a deal at the Dollar Store.  So if you are wondering what are the best things to buy at the Dollar Store, here are my Top 10 Items that I typically buy there and why:
What to Buy at the Dollar Store: 
1. Seasonal décor: When it comes to Easter baskets, Christmas decorations, Valentine's cards and more, the Dollar Store is the first place I stop.  The selection of items is typically extensive and you will be hard-pressed to find re-usable baskets and decor for just $1 elsewhere!
2.  Gift Bags/Wrapping Paper:  I recognize that not all wrapping paper is created the same and sometimes it pays to spend a bit more when it comes to gift wrap.  But I have been impressed many times by the quality of paper and gift bags I find at my Dollar Store.  You'll pay upwards of $3 or $4 for the large gift bags elsewhere!  Besides – why spend more on something that will soon be ripped up and thrown in the trash?
3.  Greeting Cards: Oh, Greeting cards – you are the bane of my existence.  Too often, I find myself still searching for the perfect card an hour after just "stopping by" the store to pick one up.  I realize that we want to "care enough to send the very best", but when was the last time you examined a card to determine if it was brand name or not?  
Many Dollar Stores carries perfectly good cards for just $0.50 each.  Why not stock up for the year and say goodbye to the "Perfect Card Search" once and for all!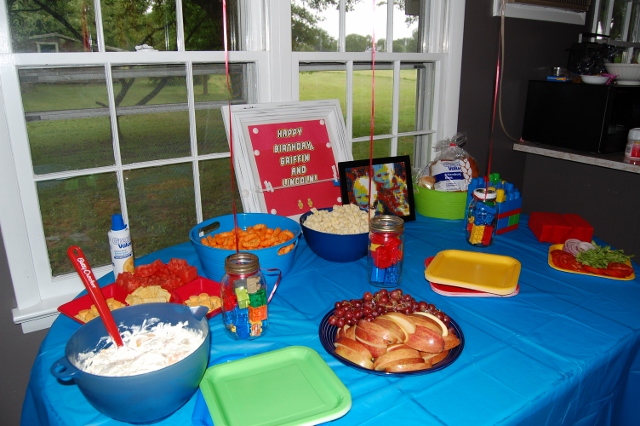 4.  Party Supplies/Tableware:  Whenever it's time to throw a party (like my boys' LEGO party), I head straight to the Dollar Store for my plasticware, tablecloths and serving dishes. I love the selection!  And you likely won't find the same deals at your local Party City.
5. Cosmetics: I realize that not all dollar stores are created equal, my local Dollar Tree carries brand name cosmetics like Maybelline, e.l.f., Physician's Formula and more.   (In fact, the last time I was at the Dollar Tree, I was able to snag some Maybelline eye liner for FREE with my $1 off coupon!)
You won't find all of your cosmetic needs at the Dollar Store, but why spend a fortune when you can get brand name lipstick, eye shadow and more for a buck?!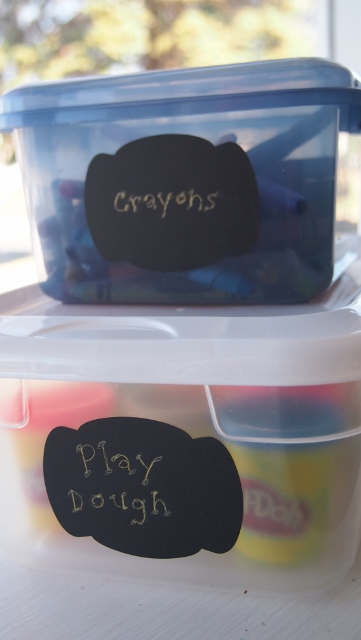 6. Storage containers: This may be my all-time favorite reason to shop at the Dollar Store.  The storage containers I have bought at the Dollar Store are the gift that keeps on giving.  Whether they be to solve my wrapping chaos or other problem areas, the Dollar Store has restored order to my life on multiple occasions with their amazing selection of containers. 
7.  Mugs/glasses: Years ago, my Mom (a.k.a. The Dollar Store Diva) bought me a set of red mugs (seen in my video here).  To this day, they are my favorites and likely no one who has used them would have guessed their origin.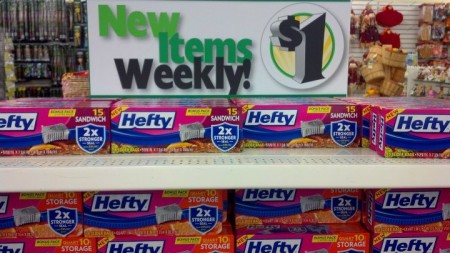 8. Sandwich baggies: Not only is there a large selection of perfectly good generic baggies at most Dollar Stores, but the Dollar Tree typically carries Hefty baggies.  Often there is a coupon available to make them just $0.50 per box – which is a steal!
9.  Hand Towels/Wash Cloths: My boys typically shop at the Dollar Store each year at Christmas for family members.  Every year, I cross my fingers that one of them will give me dish cloths.  It's a great excuse to throw the old ones out and start fresh!
10.  Office Supplies: Not every office supply item is a great deal (especially if you like to stock up during Back to School sales at other stores), but I like to grab folders, notebooks, pencils, paper clips, colored pencils and other items at the Dollar Store when I am in need.  And thankfully, I have a lot of great storage containers for them all. 🙂
How about you?  Which items do you like to buy at the Dollar Store? 
By the way, did you know that the Dollar Tree accepts coupons?  Check out my weekly Dollar Tree Coupon Matchup list and score lots of stuff for FREE!
You may also like: