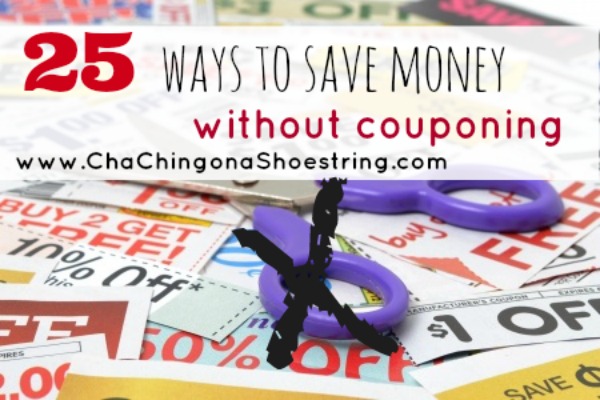 How to Save Money without Using Coupons
If you've been a long time reader, you may have noticed something different around here recently: we are no longer posting weekly coupon match-ups.
It was not a decision that came lightly by any means, and in fact took me many, many months to consider the pros and cons.  I hated the thought of letting down my readers who found us and stuck around because of our coupon posts for their local stores. I love my readers!
But as I carefully considered my options, it became quite clear that removing coupon match-ups would simply allow for a fresh shift in focus on other ways to save and live large on a limited budget. Change might be hard, but keeping things fresh is good, right?
For those who are wondering, I wanted to take some time to address a few of the reasons why we made the change.
1) The need is not as great as it used to be. 
With the advent of the Favado app and the increase in the number of other sites that post match-ups, the need for us to post weekly store deals has waned over the years. Posting matchups takes a considerable amount of time that didn't seem to equate to the demand.
2) The deals aren't as great as they used to be. 
I started couponing in 2008, back when the Recession was in full swing and prior to the craze of the Extreme Couponing show. It was during that season that you could indeed stock up on piles of free mustard and toothpaste and breakfast cereal. At times, I was even paid to shop. Couponing was a big THING.
Sadly, many people also started abusing the system during that time and stores began to notice. Many stores changed their coupon policies and became less coupon friendly. And while there were still some great deals to be found, it simply wasn't as easy any more.
3) I have personally taken a break from couponing. 
In the past year, I have taken a break from couponing. I still run out to get an awesome deal from CVS from time to time, but couponing has simply taken a back seat to other priorities in my life. I do most of my grocery shopping at ALDI where they don't even accept coupons and I shop the best deals on Amazon Subscribe & Save to buy certain items in bulk.
I also have a renewed desire to live simply and joyfully and that meant eliminating certain things from my To Do list. Couponing has been one of those things.
I certainly support and applaud my couponing readers and if you need help finding coupon match-ups for your store, I will be glad to help. We will continue to post the hottest coupon deals that we find in stores like CVS, Rite Aid, Walgreens, Walmart and Target. We still love finding a great deal with coupons around here!
We'll also continue to focus on creative ways to save money because that never gets old!  In fact, I think you are going to LOVE the fresh new posts with recipes, DIY, gift, and organizing ideas on a shoestring.
Want to Save Money without Couponing? Here are 25 ways to stretch your dollars – no coupons involved!
Shop your store's sales cycle. Most items go on sale every 6-12 weeks. Stock up when their price is the lowest.
Shop at ALDI.
Buy generic brands.
Skip prepared and convenience foods.
Check unit prices.
Buy certain items in bulk.
Embrace meal planning. (Find out about the meal planning method I've used for years here.)
Shop the reduced bakery and produce section in your store.
Find out how to get free stuff on Amazon.
Make your own Instant Oatmeal Packets.
Participate in your local Freecycle group.
Participate in online neighborhood yard sales.
Shop yard sales.
Sign up for Pinecone Research and earn $3 per survey.
Sign up for free samples by mail.
Sign up for Swagbucks. (Find out how to earn a free $25 Amazon gift card every month.)
Use the Ibotta app.  (Learn more here.)
Use the Checkout 51 app. (Learn more here.)
Use the Receipt Hog app. (Learn more here.)
Sign up for SavingStar. (Learn more here.)
Sign up for Pampers Rewards – you don't even need kids in diapers! (Learn more here.)
And most importantly – simply buy less!
What would you add to the list?